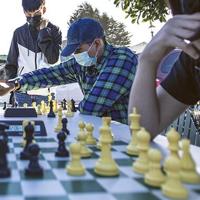 A chess club is moving outdoors during the pandemic, giving kids a chance to compete and hone their skills. | 831 (Tales from the area code)
Francisco Luevano keeps his gaze fixed downwards on the chessboards of his five competitors, seated in an L formation. He plays simultaneous games, or simul, requiring quick thinking. Luevano, 13, needs to win at least three out of five games to get his name on the club's grandmaster plaque. He only has a few seconds to invent some of his moves, while his opponents have the time he needs to go through all the games.
Instructor Robert Gumerlock says it takes planning, focus and quick thinking. After 45 minutes of intense play, Luevano wins three games, earning his place on the plate.
Gumerlock began teaching chess to children at Seaside Boys and Girls Clubs in Monterey County about 10 years ago. At first he wanted to be a math teacher. He soon realized that the last thing kids wanted to do after a long day at school was work on school subjects.
But a dusty chess set on the shelf caught the children's attention. "I was excited to see that, because I thought they were all consumed by video games now," Gumerlock says. The second and third graders started taking the game, and as they progressed through middle school and high school, he continued to be their coach.
Gumerlock's goal is to follow in the footsteps of Ted Yudacufski, a darts and chess instructor for over 40 years at the Monterey Chess and Dart Center which was located on Alvarado Street. "My job is to recruit the next generation of students so they'll be good enough to play with Ted's students for a long time," he says.
It began offering chess programs at Seaside Middle School and Monterey Bay Charter School.
When schools closed due to Covid-19, he moved in on Saturday afternoons to play outdoors. First, they met at outdoor tables at Counterpoint Coffee on Broadway in Seaside; owner Max Georis had once been a student of Yudacufski. When sit-down dining was restricted, the club moved to the benches near the intersection of Broadway and Hillsdale Street. There are now nine regular members. The club does not yet have a name, but they are looking for one.
Angel Barraza, a 15-year-old sophomore at Monterey High, started playing chess five years ago with Gumerlock at the Boys and Girls Club. "I like the energy it gives me," he says.
Barraza says it's refreshing to come play chess on Saturdays after a week of school and homework, and it helps him make day-to-day decisions, "telling him which decisions are priorities and removing them from the list ".
Students also practice puzzles, including from the weekend edition of the FinancialTimes. They organize blitz tournaments, where each opponent has three minutes on the clock per game, and the pieces literally fly off the board.
The "bible" of members is the book World Chess Champion's Guide: Winning Chess the Polgar Way by Susan Polgar, the first woman to become a chess grandmaster. Polgar had an exhibition in Santa Clara in 2019, and three of Gumerlock's players attended and played against her. (They all lost, but their books were autographed.)
As seen in the popular Netflix miniseries The Queen's Bet, chess is dominated by men. Gumerlock says he hasn't found a formula for keeping players: "The saddest thing is when I have a strong player who then loses interest in the game," he says. (It's also why he chose Polgar as the club's "patron saint" to show the girls they could be grandmasters.)
Gender imbalance aside, 14-year-old Samantha Ortiz-Naranjo was the winner of the 2019 championship. She started playing Boys and Girls Club when she was in fifth grade, and her brother Diego is also in the club. "We like to challenge each other," she says.
For a time, Ortiz-Naranjo was the only girl on the team; another joined recently. But Ortiz-Naranjo says it makes no difference to her: "I'm just here to play along."