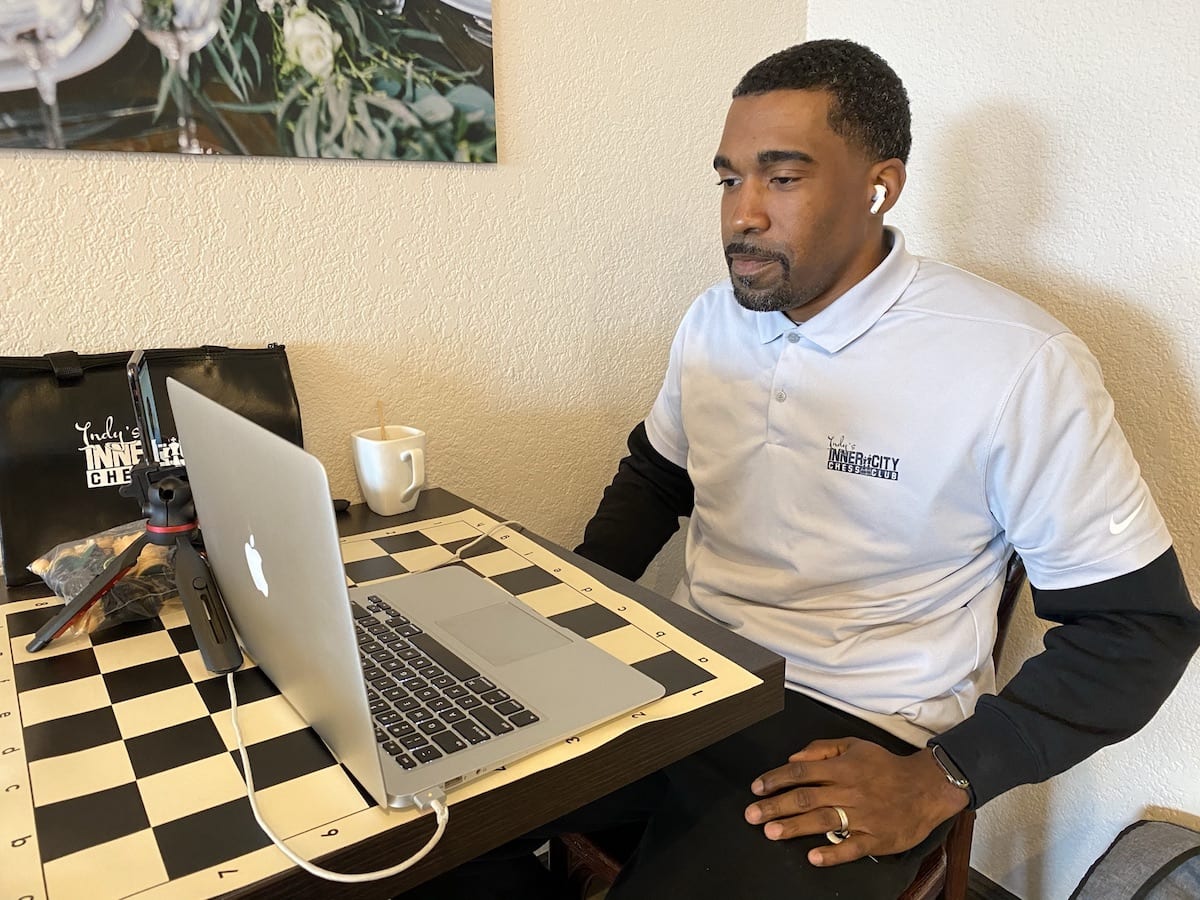 A chess club teaches that there are more than skills in a board game
Yuri Smith walked into a small cafe in Carmel on a recent Saturday morning, put a large chess mat on his table, and opened his laptop.
It was 9:40 a.m., 20 minutes before he was ready to accommodate a class of about 25 students who are part of Indy's Inner-City Chess Club. Class is on Zoom, but he's live on Facebook or Instagram so others can see him hard at work in his Nike polo shirt with the chess club branding displayed.
"Who can tell me, what is the first step to draw our chessboard?" he asked the students. The answer: Draw a square.
Smith has been teaching chess since shortly after his uncle taught him to play as a child, and his services have been in high demand ever since.
While at Crispus Attucks Middle School, Smith, also a gifted basketball player, became the K-8 Under 1000 Individual Super National Champion in 1997 at age 13. He went undefeated through seven rounds in Knoxville, Tennessee. (The 1000 refers to the Elo rating system used in chess.)
This title led to other tournaments across the country – in Arizona, Ohio, Illinois – and in Canada.
"Chess gave me this confidence to walk into the room and say, 'We could be the only black people in this chess tournament here; however, when we leave here you will know who we are," said Smith, who graduated from Franklin College and now works at the Center for Leadership Development.
Chess makes you think. It makes you analyze your movements and those of your opponent, each time weighing the benefits and the consequences.
These are some of the lessons Smith wants students to learn through his chess club. It usually holds two sessions a year – in spring and towards the end of summer. It is a 10 week session that meets for one hour at a time. Smith teaches one session on Thursday and another on Saturday.
Packages to participate range from $200 to $500, though Smith said he is trying to get more financial support so he can bring the program to schools that have requested it. Learn more at innercitychess.com.
Smith calls chess the game of life. He grew up in Harding and 21st Street, a neighborhood that "checked all the boxes" for poverty, crime, and more.
"The data says we're supposed to be in jail, dead, or addicted to something right now," Smith said, "or in jobs where we can't properly care for our families."
Embracing those lessons and that confidence was a big part of what drove Smith and a dozen of his friends, all connected through chess as teenagers, to earn at least a bachelor's degree.
One of Smith's chess friends, Thomas Reives, earned a master's degree from the Rose-Hulman Institute of Technology and worked as an engineer at Eli Lilly. Reives was part of the Attucks 1999 state championship team that Smith coached.
Chess ended up being more than a game for these students. It was a ticket.
"It was the first time we were allowed to escape our surroundings at a very young age," Reives said, "to see there was more than playing basketball or football to get out of Indianapolis and see the world."
Contact editor Tyler Fenwick at 317-762-7853. Follow him on Twitter @Ty_Fenwick.