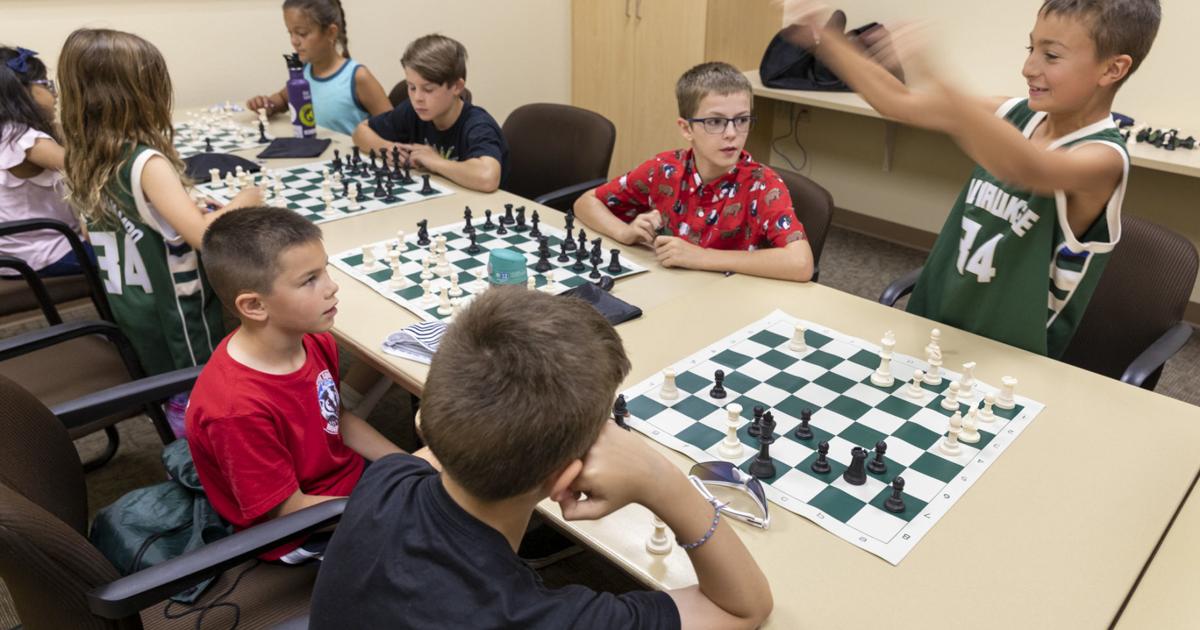 Campers take chess to new levels | local education
PAMELA COTANT For the State Journal

Campers had all kinds of reasons to spend their mornings for a week in a room at the Waunakee Village Center learning to play chess.
Simon Marx, a sixth-grader at Waunakee Middle School, said it was natural for him to attend morning Chess Wizards camp since he participated in the school's chess club.
"I played chess a bit with my friend in the winter," he said. "I just came to have fun."
Aadya Sharma, a third year student at Madison Country Day School, said it was a chance to play with other youngsters since she normally plays chess on a computer, her tablet or with her father.
"I like it because a lot of times I'm not patient," she said. "Chess just helps me strategize and become patient."
Jackson Scheller, a fourth-grade student at Arboretum Elementary School in Waunakee, and Logan Huza, a fourth-grade student at Heritage Elementary School in Waunakee, both said they love sports, but Logan admitted that the chess had some similarities due to the strategy involved.
Nora Jimenez, a fourth-grade student at Waunakee's Prairie Elementary School, said she came back because she enjoyed camp last year. She said it was a chance to play with more people than her brother, Brody, a fifth-grader at Waunakee Intermediate, who was also at camp.
"I learned a few things," like more strategies for getting other players to checkmate, she said.
Lucas Steinbruegge, who was teaching the camp, said he wanted campers to learn how to do checkmate – in which a player's king is in a line of attack by an opponent's piece and cannot escape. The attacking player then wins the game.
"They always thought (chess) killed the king," he said. "I try to teach them a few ways to checkmate."
Steinbruegge said that in addition to learning strategy, campers get the chance to compete and held a mini-tournament with trophies on the final day. They also had the chance to play a different version of chess which he called "two against two".
"It's more fun than the usual chess," he said.
Playtime outside of the Waunakee Village Center has also been incorporated into the camp.
The camp's official name is Chess Wizards K-8 Scholastic Chess Day Camp, but in some locations – such as the Waunakee Village Center where the camp was designed for students in grades one through five – only students in certain grades are registered with exceptions based on circumstances.
The program began in the Chicago area in 2002 and has since slowly evolved into a national school chess program, said Rob Brose, partner and co-founder. He said the organization has local coordinators and instructors running its program in 14 states with about 200 chess educators involved nationwide.
"Our approach to teaching chess and teaching in general is to make the learning process very fun, interactive and exciting. We play a 2,000 year old game that has been used as a teaching tool for all that long, but kids don't care. Above all, they want to have fun, make friends and challenge themselves in a safe environment," he said. "Chess is this great social game, where a 6-year-old can beat his parent on equal footing if he has enough skill."
Brose said he hopes campers find a game they can take home with their friends, siblings, parents and grandparents.
"At the end of our camp, our students will be better chess players, but our biggest goal is for them to have an incredible experience that inspires them to take their learning even further," he said. .