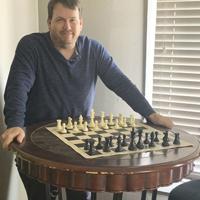 Chess Club encourages the community to play the game of kings | Entertainment
By ANTHONY FLORES
At the corner of CR 200 and SH 29 is a building that has housed a church, a non-profit organization and, more recently, a hair salon. But Larry Diffey uses space chess enthusiasts.
In his youth, the computer scientist was not the most skilled chess player, struggling in clashes. It was these early failures that motivated Diffey to become a student of the game.
"I was playing with a friend when I was about 15 or 16 and I was getting butchered," Diffey said. "I was so frustrated. After that, I took the time to learn the game and the strategies involved.
Diffey has recently started playing a good deal of the game online. It was the urge for head-to-head competition and the feeling of moving pieces on a physical chessboard that inspired Diffey to start a community chess club.
"I like playing on the board, but I don't get to sit with people," he said. "The strategies and tactics are the same, but there's just something better to play on the board."
Beyond his desire for physical sensation and an all-round opponent, Diffey learned that the chess lessons provided can help players in different aspects of their lives.
"Chess, in general, is a great brain booster," he said. "Chess tactics and strategy apply to many different areas of life, to how you think about problems and try to anticipate the consequences of particular problems."
Diffey encourages all members of the community to attend club meetings, regardless of skill level.
"Anyone can come here and play chess. I don't care if you've never played chess, if you don't understand the rules yet," he said. "It's a great game, and just about anyone can benefit from it."
Diffey believes that involving children from the community in the group can benefit them by broadening their minds and their ways of approaching situations.
"I wish I had been involved in chess when I was a kid now that I understand the game better," he said. "Just because of what it can do for your thought process, your logical thinking. It's valuable for all areas of your life.
The ideal outcome that Diffey hopes for is to reach a point where members of the community, adults and teens, can come together to form stronger bonds with one another.
"I would like to see a good community group of children and adults who can get together, play chess, meet each other and form some cohesion in the community," he said.
To become a member of the chess club, join the Liberty Hill Chess club group on Facebook. The group's first meeting is January 13 at 6:30 p.m.