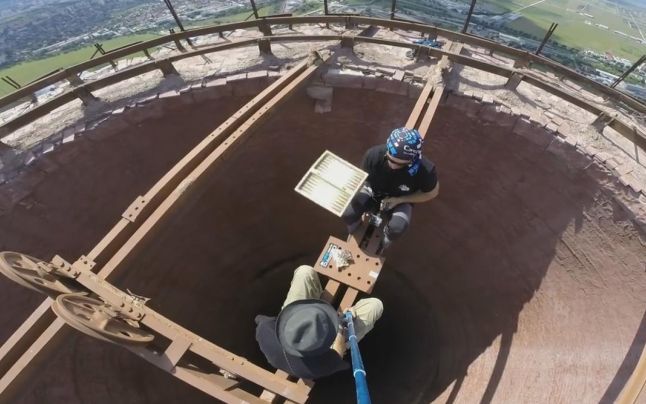 Chess game at the highest altitude: Romanian players
David Longhel | World Records Academy • Sep 24, 2018
"I did not escape any piece in the rook and the chessboard was safely lowered. All the bishops escaped well," said Flaviu Cernescu
Bucharest, Romania — Flavius ​​Cernescu
38, also known as Banat Dragon, with a friend, Georges Ciprian Lungu
played a game of chess over the hole atop a 280 meters (918 ft)downgradedcooling tower, setting the world record for Chess game at the highest altitude
according to the Academy of World Records.

"After a few games of chess here and there, we thought we had to take the chessboard with us and play on top of a tower, the Adevarul
reports.

"The fact is that we are not pretentious players, but the idea is to experience something new. And on the towers, the air is the calmest in the middle, because the convection currents push the wind on the side, so the wind dominates you.
I escaped no piece in the rook and the chessboard was safely lowered. All the madmen escaped well," said Flaviu Cernescu, for the Adevarul.
Originally from Caraş-Severin, Flaviu Cernescu is known worldwide for his extreme adventures. The first adventure, when he climbed with the monocicle high up in Timisoara and performed a series of stunts, was published on the front pages of websites around the world, the Evenimentul Zileireports.

WARNING
: We hereby inform you that the stunts and figures presented in this video are performed by professionals in controlled environments. Do not attempt to duplicate, recreate, or perform the same or similar stunts and tricks at home, as injury or property damage may result.



Submit world record


WORLD RECORD CERTIFICATE


Contact us
About



WORLD RECORDS ACADEMY
WORLD RECORD ACADEMY is the world's largest organization that certifies world records.
The WORLD RECORD ACADEMY has the widest coverage (based on local lawyers and professionals like CPAs, surveyors and others) and the largest database of world records in the world.
The WORLD RECORD ACADEMY has the strictest rules for approving world records. The WORLD RECORD ACADEMY is the first and only organization in the field that requires polygraph tests, anti-doping tests as well as the presence of legal representatives: lawyer, accountant, surveyor, depending on the specifics of the case.
For more information visit: https://www.worldrecordacademy.org