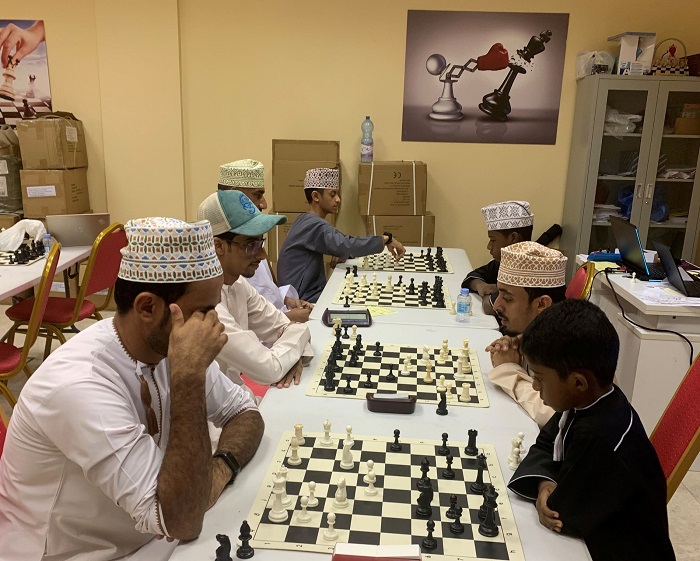 Chess players from Oman prepare for the Asian Amateur Chess Championship in Muscat
Muscat: With less than ten days to go, the national chess team is undergoing an intensive preparatory training program ahead of the 2021-22 Asian Amateur Chess Championship which will take place in Muscat from September 29 to October 6 at the complex sportsman Sultan Qaboos to Bausher. No less than twenty players from the national chess team have started their final preparatory program at the Al Amal club under the watchful eyes of Yemeni head coach Basheer al Qudaimi. The training camp will end on September 27.
"Training sessions are open to all team members including: Junior, Senior and Women's categories in the evening. Each session will last for a period of four hours per day. The aim of the training program is to improve the technical performance of the players.Also, to help them to develop the critical thinking ability of the team members and to solve the common mistakes that can
happen in games," the head coach said. The camp witnessed the practice of the players on different techniques and strategies. The head coach focused in the previous session on providing a detailed analysis of the player's performances in the previous participation in regional and international events.
"Our goal in this camp is to train players for long matches that are played in international events. This step will help the players improve their technical level and adapt to international-level practices," the Yemeni coach concluded.
No less than 186 players from 21 countries have confirmed their participation in the Asian amateur tournament organized by the Oman Chess Committee (OCC) in association with the Asian Chess Federation. Participating players come from Bahrain, India, Iran, Kazakhstan, Kyrgyzstan, Saudi Arabia, Lebanon, Malaysia, Pakistan, Philippines, Palestine, Qatar, Sri Lanka, Tajikistan , Syria, United Arab Emirates, Yemen and the host Sultanate of Oman.
The first classified is Kyrgyzstan Asan Kushof, the second Lebanese is Mahmoud Maasrani and the third Pakistani, Suhail Junaid, will also participate in the women's tournament, the Emirati Rawda Al-Sarkal, first classified, as well as the Palestinian Iman Swan and Salma Al- Khelaifi from Qatar.