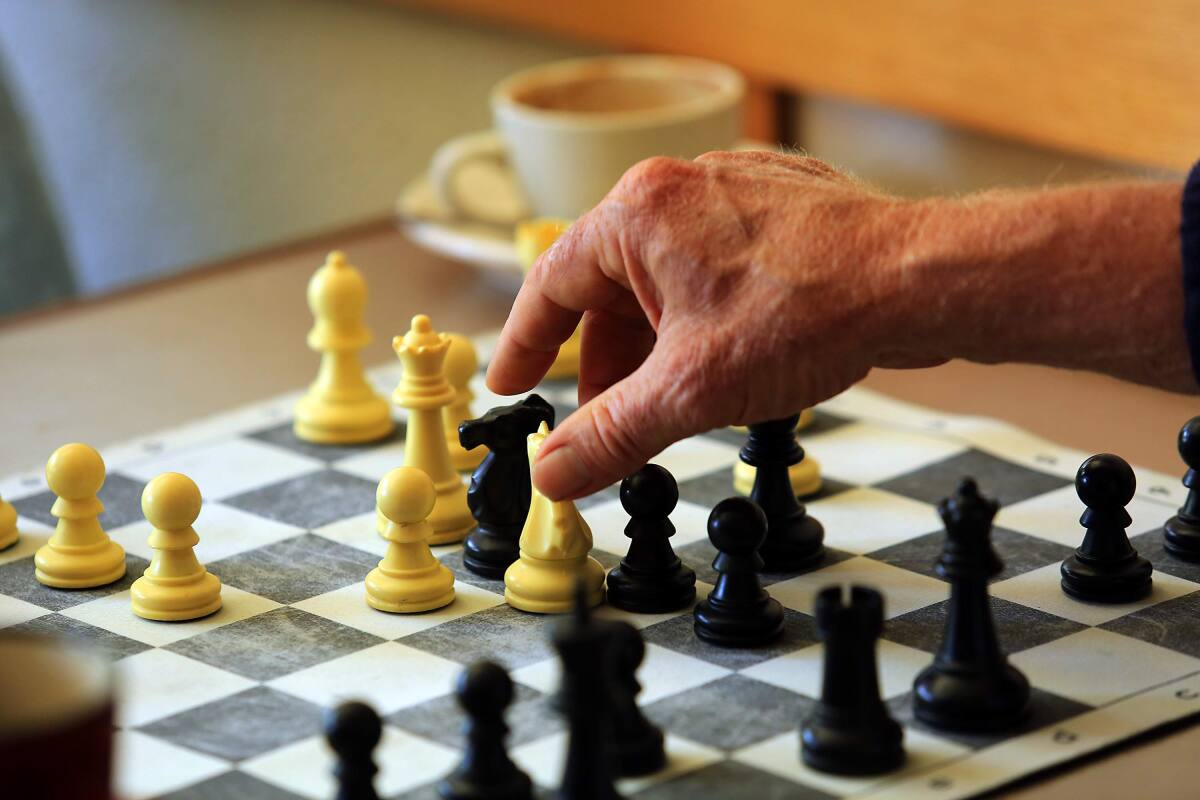 Chess players gather for coffee and a game in Santa Rosa
Ernest Hemingway smiles in a black and white photograph hanging on the wall. Below him, patrons of the "Hemingway Room" at SoCo Coffee in Santa Rosa are quietly concentrating on a quick game of chess, tapping timer buttons in a furious frenzy.
Wrinkled brows, tense muscles and absolute silence permeate the atmosphere during one of the games of flirt that regularly take place at the downtown café. The tension is absorbed by the comfortable cabin-style seats and the walls overflowing with autographed smiles from local authors and poets.
"Don't tell Hillary I was here," one of the players says when asked why he won't reveal his identity for this story. He winks, takes a sip from his cup of coffee, and begins to arrange the pawns on the board for a new game. Upon closer inspection, his face reveals a slight resemblance to Bill Clinton.
"Bill" plays chess with Robert Fischer, 80, a retired real estate developer. Not the Bobby Fischer who became world chess champion in 1972, but the man whose trademarks are neatly trimmed long silver sideburns and a black military hat. His eyes are hidden behind glasses, his face under a beard and a thin silver mustache.
"Some players are treating it like World War II," says Fischer, an organizer who shows up to play several times a week. He was part of a band that played on Fourth Street in Santa Rosa before moving to SoCo about five years ago. If you want to be paired with another player, ask them.
On a recent Saturday in May, a young man approaches an older man and offers him a game of chess. Edward Rosenthal, 72, pulls a bag out from under his seat and pulls out a chessboard.
The young man is Eric Valor, 22, who says chess has changed his life. He says he was 15 years old and homeless when he discovered the game. Chess and the community that supports it helped him focus and regain his footing. Today he runs the Castles and Crown Chess Club.
Rosenthal offers some advice on strategy as he plays with Valor. Rosenthal is a web designer during his hours away from gaming.
Several days of the week, chess players can be found at SoCo Coffee between 1 p.m. and 4 p.m. Sometimes 10 or more people fill several tables, making the trip from Rohnert Park, Petaluma or another nearby town. The café owner provides chess boards, pieces and timers, although some players prefer to bring their own equipment.
As they sip their coffee, the players talk and joke, pushing their knights into aggressive positions or making defensive moves with a pawn. The mood can change quickly as the game gets bigger. During rapid chess games, each player has only five minutes to play and can lose the game by running out of time if the opponent's play demonstrates potential checkmate. A player can also lose by making illegal moves.
It's not just about quick and strategic moves at SoCo. For those who want to indulge in slow, comfortable games, Tuesdays are off-the-clock days. Mastery of rooks and bishops is not a prerequisite, nor is knowledge of chess rules. Spectators are welcome and encouraged.
SoCo Coffee is located at the corner of Fourth Street and Brookwood Avenue in Santa Rosa. It serves sandwiches, pastries, Mediterranean pizzas and other food items in addition to coffee and tea. sococoffeesr.com, 527-6434.