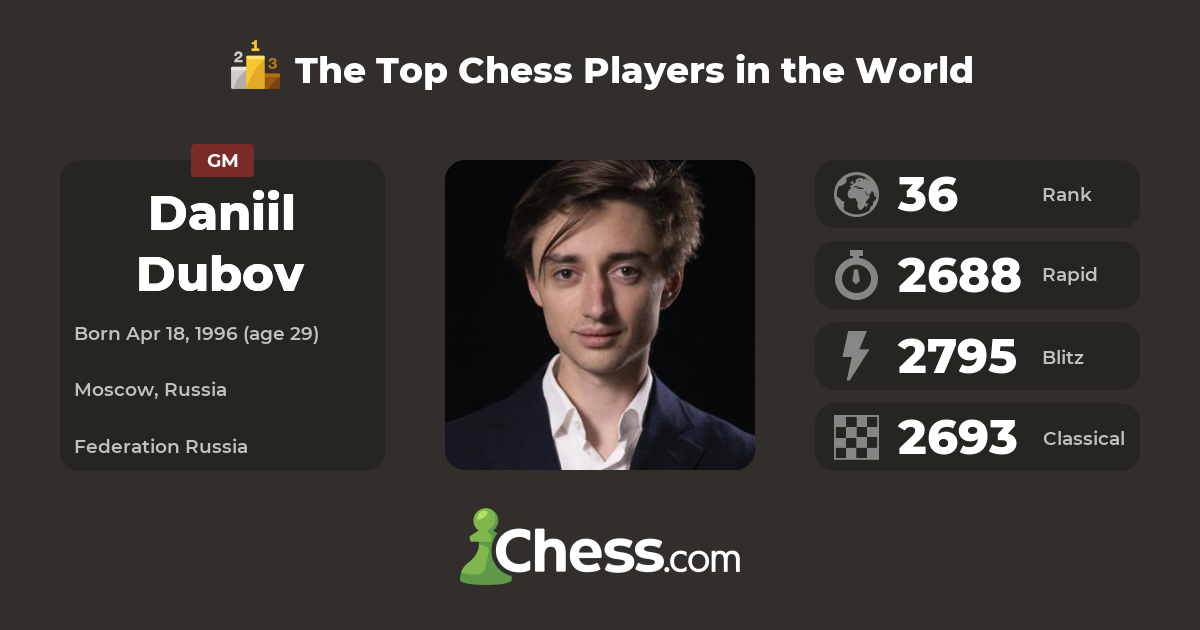 Daniel Dubov | best chess players
Daniil Dubov is a Russian grandmaster and world class player. He tied for first place at the 2015 Aeroflot Open and burst onto the international chess scene by winning third place at the 2016 World Blitz Championship.
Dubov was one of the runners-up to World Champion Magnus Carlsen for the 2018 World Championship match and the winner of the 2018 Abu Dhabi Masters tournament as well as the 2018 World Rapid Championship.
---
Style
Dubov's style is universal like most modern super-grandmasters. According to his coach, GM Sergey Shipov, his style of play is closest to the former world champion GM Tigran Petrosian (aka "Iron Tigran"). However, Dubov shows fantastic attacking skills in his best games.
In the next game, Dubov hunts his opponent's king from g8 to a3 before checkingmate! After a normal and calm Queen's Gambit Declined, Dubov shows his aggressive intentions by castling the queenside on the eighth move.
At move 14, Dubov offers a piece sacrifice and opens the h-file. On move 22, Dubov sacrifices a full rook to tear apart the rest of the black kingside, and the king hunt begins! By move 30, Black's king has already been chased to the b5-square, and checkmate is imminent—a wonderful offensive play by Dubov!
Carrier start
Dubov started playing chess at a young age and found success almost immediately. He finished third in the U-10 division of the Russian Championship in 2006 and he won the bronze medal in the U-10 division of the European Youth Championships the same year. Dubov earned his FM title in 2008 and finished second in the U-12 section of the European Championship.
In 2009, Dubov finished in second place in the U-16 section of the Russian Championship. He also won the Russian U-16 blitz and speed championships in 2009 and won his IM title in 2010. Dubov had a great showing at the 2011 European Individual Championship, scoring 6/11 and getting his latest standard of Grand Master. He became a grandmaster shortly before his 15th birthday.
young grandmaster
Dubov put in a fantastic performance in the 2012 Russian Championship Top League, sharing first place (second in tiebreakers) alongside the general managers. Dmitry Andreikin and Nikita Vitiugov with a score of 7.5/11. He finished ahead of a field of 46 Russian grandmasters, including Sanan Sjugirov, Ian Nepomniachtchi, Alexander Khalifman, Dmitry Jakovenko and Vladislav Artemiev.
In the next match of this tournament, Dubov defeated GM Dmitry Frolyanov. After a relatively normal Sicilian Richter-Rauzer opening, the position is roughly balanced around move 17 – Dubov has the bishop pair and better pawn structure while white has the half-open f-file and the d5-square:
Dubov sacrifices a pawn, then a heavy piece endgame is reached at move 24 where black has the half-open b and c files to use (à la Benko Gambit) and a weak e4 pawn as a target in compensation for the pawn. Dubov's 30… Rc3! is a great find, and White is already struggling. White returns the pawn a few moves later to try and release the pressure, but Dubov continues to press with his more active pieces – his technique is memorable.
Dubov's results at the Russian Championship Top League tournament qualified him for the 2012 Russian Championship superfinal. He scored eight draws and one loss in that event, finishing one point behind the winners (GMs Andreikin, Sergey Karjakin, Peter Svidler, Jakovenko, Vladimir Potkin, Evgeny Alekseev) and half a point behind GM Alexander Grischuk. After this event, the then 16-year-old Dubov's classic ranking reached 2600+ for the first time.
In 2013, Dubov finished in fifth place out of 14 grandmasters in the Tata Steel Group B tournament with a score of 7.5/13. He beat Dutch chess legend Jan Timman in this tournament. Dubov also played in his first FIDE World Cup in 2013, beating GM Sergey Fedorchuk in the first round. In the second round, he defeated former FIDE GM World Champion Ruslan Ponomariov. He lost in the third round to GM Anton Korobov.
Dubov finished tied for first (alongside Nepomniachtchi, who won on a tiebreaker) at the 2015 Aeroflot Open. He scored 7/9 ahead of a field of 72 grandmasters, including GMs Shakhriyar Memedyarov, Richard Rapport , Vladimir Fedoseev, Francisco Vallejo Pons, Korobov, Baskaran Adhiban, Jorden van Foreest and Sjugirov.
World class player
2016 was another strong year for Dubov, who scored 7.5/11 in the Individual European Championship and tied for sixth alongside GMs. Radoslaw Wojtaszek, Vitiugov, etc. Here's an example play from 2016 that sees Dubov lead a brilliant attack! After a strong opening, the kings end up on opposite sides of the board. Dubov sacrifices his queen on move 23 with the breathtaking (but simple) 23. Ba6!
After accepting the queen's sacrifice (declining it would have been a more terrible option), black is in a complete stalemate despite being a queen! Another memorable attacking game from Dubov!
He ended the year with his best blitz achievement to date in the 2016 World Blitz Championship. He finished in third place (on tie-break ahead of GMs Hikaru Nakamura and Grischuk) behind winners, Karjakin and Carlsen.
This outstanding performance in an incredibly talented field of 108 was the best of his career, as he edged out GMs Maxime Vachier-Lagrave, Leinier Dominguez Perez, Korobov, Vassily Ivanchuk, Viswanathan Anand, Peter Leko, Nepomniachtchi, Wei Yi, Baadur Jobava, Yu Yangyi, Bu Xiangzhi, Teimour Radjabov, Mamedyarov, Artemiev, Levon Aronian and many other world class grandmasters.
In 2017, Dubov won the Russian Championship top league tournament (beating Sjugirov in a tiebreaker) with a score of 6.5/9. This qualified him for the Superfinal of the 2017 Russian Championship, where he finished in third place (tied with Fedoseev, whom he beat on a tiebreaker) behind the winners, Svidler and Vitiugov.
Dubov scored 7/10 at the Tradewise Gibraltar 2018 tournament, half a point behind co-winners GM Nakamura, Rapport, Vachier-Lagrave, Aronian, Vitiugov, Michael Adams and Le Quang Liem. His rating crossed the 2700 mark for the first time in 2018. Here is a match from the 2018 Russian Championship Superfinal where Dubov sacrificed not one but two rallies! After an opening by Modern Benoni, Dubov creates a nice position against GM Ernesto Inarkiev and sacrifices the first rally at move 23:
Dubov abandoned the exchange against white's black square bishop and starts attacking the black squares a few moves later with 25…Qg5 with a crushing assault! The end position is beautiful with the black pieces dominating the center and the kingside.
He went on to win the 2018 Abu Dhabi Masters on tie-breaks (alongside GMs Korobov and Salem Saleh) in front of a wide field including GMs Rapport, Wang Hao, Fedoseev, Nodirbek Abdusattorov, Parham Maghsoodloo, Alireza Firouzja and d 'others. He reached a classic rating of 2709 after this tournament. Here is Dubov's victory against Firouzja from this tournament with fantastic annotations by IM Rakesh Kulkarni:
2018 World Rapid Champion
Dubov had a unique opportunity when he was one of Carlsen's seconds for the 2018 World Championship game against GM Fabiano Caruana. You would expect him to have gained a lot of experience working closely with the world champion, and it immediately showed: Dubov won the 2018 World Rapid Championship ahead of the best players in the world with a score of 11/15. He finished half a point ahead of Carlsen, Mamedyarov, Nakamura, Artemiev and the rest of the 204-man field which also included GMs Firouzja, Anish Giri, Karjakin, Korobov, Jan-Krzysztof Duda, Grischuk, Jakovenko, Andreikin, Wang, Gata. Kamsky, Anand and Nepomniashchi.
Dubov participated in the 2019 Moscow FIDE Grand Prix tournament, which had a 16-man knockout format. In the first round he defeated Giri but lost to Nakamura in the second round. Here is Dubov's win against Giri from this tournament. After a sharp Queen's Gambit, Giri tries something new on move 11. The game gets extremely tactical and messy, and it gets even sharper after Dubov castle queenside on move 19 with no more queenside pawns!
The game then becomes a mutual king hunt, with each side trying to prove that the other's king is more exposed. At move 26, Dubov's king has become relatively safe, while Giri's is still struggling. Dubov's piece coordination is impressive, and the final move with 36. Ne7+ strength checkmate. An outstanding slugfest of a game!
He finished tied for third (alongside GM Pavel Eljanov) at the 2019 Netanya Masters tournament, half a point behind winners GMs Boris Gelfand and Dominguez, but ahead of six strong grandmasters. He beat GM Emilio Cordova in the first round of the 2019 World Cup but lost to young phenom Firouzja in the second round. Dubov advanced to the semi-finals of the 2019 FIDE Grand Prix Hamburg Knockout Tournament. He defeated Radjabov in the first round and then defeated Svidler in the quarter-finals. In the semifinals, Dubov lost to Duda in the second section of rapid matches.
Dubov couldn't repeat as a fast world champion but finished in eighth place in the tiebreaker behind Carlsen, Firouzja, Nakamura and Artemiev and tied with Aronian, Dominguez, Duda, Korobov and others. He finished ahead of Mamedyarov, Liem, Vachier-Lagrave, Giri, Svidler, Grischuk, Fedoseev, Andreikin, Gelfand, Nepomniachtchi and many other powerful grandmasters.
In 2020, Dubov finished tied for fourth place (alongside van Foreest) at the Tata Steel Masters tournament behind GMs Caruana, Carlsen and Wesley So. He finished ahead of the strong group of participants: GMs Giri, Anand, Duda, Firouzja, Jeffery Xiong, Artemiev, Vitiugov, Yu and Vladislav Kovalev. Here is Dubov's victory over Yu in this tournament: a positional masterpiece. After a quiet Slavic opening, Dubov beats Yu and has a noticeable advantage on move 19:
After the queens have been exchanged, Black's problems are still evident—an undeveloped bishop on c8 and a weird knight on b7. At move 29, Dubov's pieces dominate Black's pieces, and the game ends two moves later. A brilliant display of technique when an opponent is in a positional bind.
In June 2020, Dubov won the Lindores Abbey Rapid Championship, the first event on the Magnus Carlsen Chess Tour. He defeated Karjakin and GM Ding Liren to reach the finals, where he defeated Nakamura in an Armageddon match to take first place. He finished ahead of the star-studded field which also included GMs Carlsen, Aronian, So and Yu.
The chess world looks forward to the future achievements of this talented super-grandmaster, who has shown strength in all competitive time checks and is on the rise.