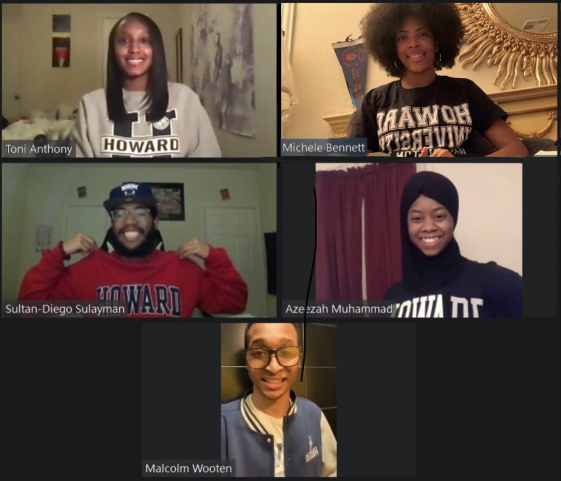 Howard University Chess Club Wins 2020 Pan American Intercollegiate Championship
WASHINGTON – Howard University Chess Club won first place in the 2020-2021 Pan American Intercollegiate Championship Online Division VI in the 1400 (rated) category. The four-member student team consists of Chess Club President Michele Bennett, Vice President Malcolm Wooten, Azeezah Muhammad and Tony Anthony. Howard's chess team has competed against universities such as Yale, Princeton, Rutgers and former big winner Webster University.
The tournament was held online this year due to COVID-19 and to accommodate the many international student teams. As per tournament guidelines.
"This tournament is the most competitive sport of the season for collegiate players," Chess Club President Bennett said, "I'm so proud of them because they brought their A-game, and we have earned our place as champions."
Howard University also received special recognition because team member Muhammad, a previously unranked player, defeated a 1700-ranked player, giving Howard the biggest upset of the tournament. Anthony also beat a player rated between 1200 and 1400. Both upsets will give both team members higher ratings after the tournament.
"A player's rating in chess is a three or four digit number determined by the United States Chess Federation (USCF) to showcase each player's strength. The higher the number, the better the player , and the lower the number, the weaker the player. The lowest possible rating is 100. The highest possible rating (in theory) is 3000, although the highest rating a player can failed to achieve was 2851, which was owned by [former] world champion, Garry Kasparov," explained Nisa Muhammad, D.Min.advisor to the Howard University chess team.
The majority of Howard's team was unranked as they had never competed in a tournament. Wooten was the only player rated at 1482.
"When you beat a higher-rated player, your rating goes up. Azeezah, also a member of the Muslim Student Association, beat a 1600-rated player, giving her a higher rating each time her rating is posted, causing the rating to plummet of its competitor," Muhammad said.
The average USCF adult tournament player is rated around 1400. Very strong adult tournament competitors—the top 10%—have ratings above 1900.
The HU Chess Club was re-established last year by then-president Sultan-Diego LeBlond, who this year served as the team's coach. The team was also coached by nationally recognized Zahir Muhammad, who has an 1800 rating. The last time Howard competed in the Pan American Games was in 2005.
Wooten from North Brunswick, NJ shared his excitement in one of the most competitive tournaments he has ever played.
"I had a lot of fun competing and testing my skills against master-level opponents. It was an honor to put Howard on the map in the world of competitive chess."
# # #
About Howard University
Founded in 1867, Howard University is a private research university comprised of 13 schools and colleges. Students pursue studies in more than 120 fields leading to undergraduate, graduate and professional degrees. The University operates with a commitment to excellence in truth and service and has produced one Schwarzman Scholars, three Marshall Scholars, four Rhodes Scholars, 11 Truman Scholars, 25 Pickering Scholars, and over 165 Fulbright Scholars. Howard is also producing more African-American doctorates on campus. recipients than any other university in the United States. For more information about Howard University, visit www.howard.edu
Media Contact: Imani Pope-Johns, Public Relations Manager, [email protected]