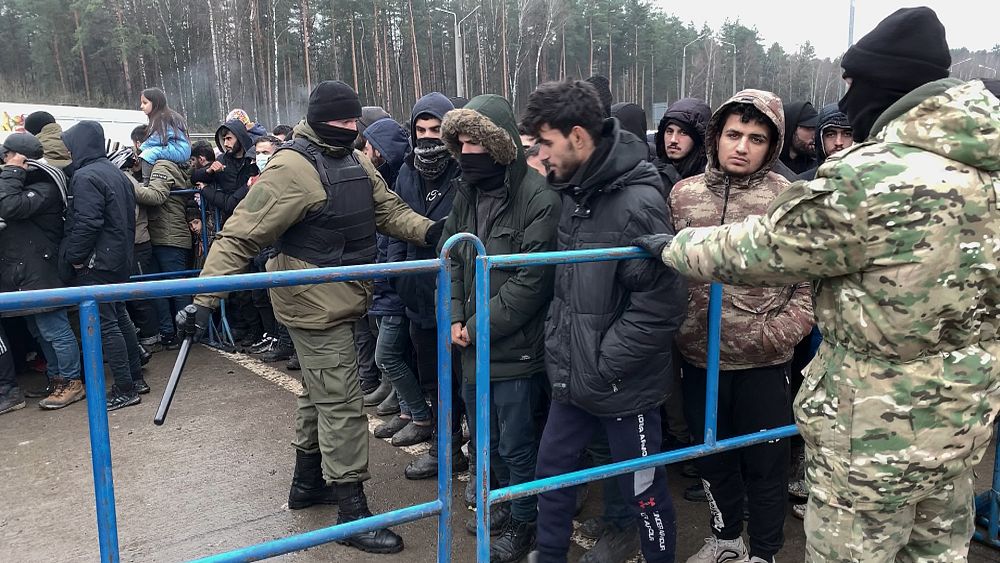 Human pawns: migrants trapped in geopolitical chess game
When the border crisis between Poland and Belarus first erupted this summer, I remember comments from fellow journalists saying that everything would probably be over by the fall.
I have reported twice in the region since then, and despite ongoing diplomatic demarches, thousands of migrants are still stuck in the stalemate between Minsk and the European Union.
On my second visit, I was able to spend some time on the Belarusian side of the border, which had been open to the media.
Moved to a warehouse
Authorities were eager to show that there had been improvements and that hundreds of people stranded outside for weeks in makeshift camps had been taken out of the cold – in a huge warehouse just off the road leading to the Bruzgi border post with Poland.
I couldn't help but huff when I entered the building. It was filled with men, women and so many children, crammed like cattle, jostling each other along the aisles, killing time on mattresses piled up on the warehouse shelves or on the floor. I had the impression of entering a gigantic exhibition of human misery. The clamor. The stench. My interpreter had to breathe outside before continuing.
Belarusian authorities had just started to organize access to medical care and hygiene facilities, but conditions were dire.
This was not the greatest concern of the locals. "We sold everything to come here to reach Europe. But Europe refuses to open its doors to us. My family and I are ready to stay here another 3 months, until European governments react, "said Vian, a Kurdish woman from Iraq.
The determination in her eyes, intense with the shadow of what she told me that she and her family had endured in the city of Kirkuk, in northern Iraq, attacked by Daesh.
A young man suddenly appears out of nowhere; a press secretary from the Belarusian Foreign Ministry, informing me that the governor of the Grodno region was outside, available for interviews. I made my way through the lines of people queuing for food, under the watchful eye of the soldiers. The gaze of the silent men in line was humiliating, as the truncheons of the soldiers touched their chests, very lightly.
"The solution to this humanitarian crisis does not depend on us", insisted the governor of the region. "If people want to return to their country, we make it possible. But most of them say they want to continue their journey, which is something we unfortunately cannot offer them.
"This is a political question, and the decision must be taken by the leaders of the European Union. We hope that the position of the European Union will be defined soon, because people are tired."
A geopolitical chess game, with migrants being used as pawns.
Tension mounts as the crisis escalates
Across the border, in the Podlasie region of Poland, tensions have been mounting since my first visit. Some 15,000 police, border guards and soldiers have been deployed along the border.
Checkpoints are everywhere, and police and military convoys ply the roads as if they were part of a sinister ballet.
The 3 km-wide exclusion zone that stretches from the border with Belarus is still blocked for non-residents, aid organizations and journalists.
Local activists continue to sound the alarm bells. Arbitrary refoulements of migrants arriving in Poland by security forces continue. And those who are forced to return to Belarus are in turn pushed back by Belarusian soldiers.
"We fled the war and came to the forest to die."
The allegations that Belarusian authorities have repeatedly rejected, although Belarusian President Alexander Lukashenko himself
that inquiries would be made.
"They played with us! The Belarusians pushed us, the Poles pushed us back, "Fadi, a Syrian refugee, assured me.
We met in a refugee center where he and his brother had arrived two days earlier, after being rescued by activists and border guards in the Polish forest. "We were going to die. Without food, without anything. We got lost in the forest. Me and my brother lay down under a tree and thought we would die. We fled the war and came to the forest to die. He sighed. "Thank goodness we're still alive. "
Death at the border
Not everyone is so lucky. At least 12 refugees are believed to have died in the Polish forest trying to cross the border. A figure that only concerns those who have been found.
I attended two funerals in the small Tatar Muslim village of Bohoniki, near the village. The community decided to give graves to the dead identified as Muslims. Within a week, three people were buried in the Bohoniki cemetery. "There will be more," commented the village imam. Two days later, the small coffin of a stillborn baby, whose mother died shortly after, was added to the graves.
"In our forests and under our windows, people should not die! The words of Adam, one of the local residents who we meet later in a place that must be kept secret. He takes us on one of the many treks organized by activists like him, who roam the forest in an attempt to help migrants stranded in the wild, between Polish and Belarusian forces.
A contrast to the story of far-right supporters met during a demonstration in the town of Bialystok, the capital of the Podlasie region. "Mass immigration affects the social fabric and will make us a country of multiculturalism! »Argues Marcin, a young lawyer, fearing that the current crisis will induce an« invasion ».
"We want to live in peace, in security … because Syria is over"
The so-called "invaders" are not ready to give up their dream of Europe easily.
Like Ali, another refugee from Syria, whom this time I meet in Minsk, the Belarusian capital. He lets me enter the apartment where he and several companions are hiding. They regain their strength after several unsuccessful attempts to cross the border. They were pushed back three times to Belarus, after reaching Lithuania and Poland. Ali tells me that once he made it to the Netherlands, but was arrested by the Dutch police, who took him back to Belarus. Limping from an old wound caused by a terrorist attack in his hometown in Syria, he tells me that the pain has worsened, due to the ordeal he went through for days in the forest.
Yet he and his friends are determined to try their luck again, whatever the cost.
"In Syria, we have children, we have women. They can no longer live there!
There are no schools, there is no electricity, there are no hospitals, no heating!
We want to live in peace, in security, better than in Syria. Because Syria is over, "he said. "I have no choice but to try again. I want to give my wife and my family a better future than that of Syria.
Finally a better future
Two weeks have passed since our conversation. As I write these words, I can't help but smile. Ali sent me news during the night. And an invaluable still image from a telephone video, featuring his swollen face but overjoyed, and that of his young wife, overcome with emotion. Ali kept his promise. He tried again, and this time was rescued by Polish militants in the forest. He is now safe and has applied for asylum in Poland.
On December 15, Poland's decision to build a wall along its border with Belarus came into effect.