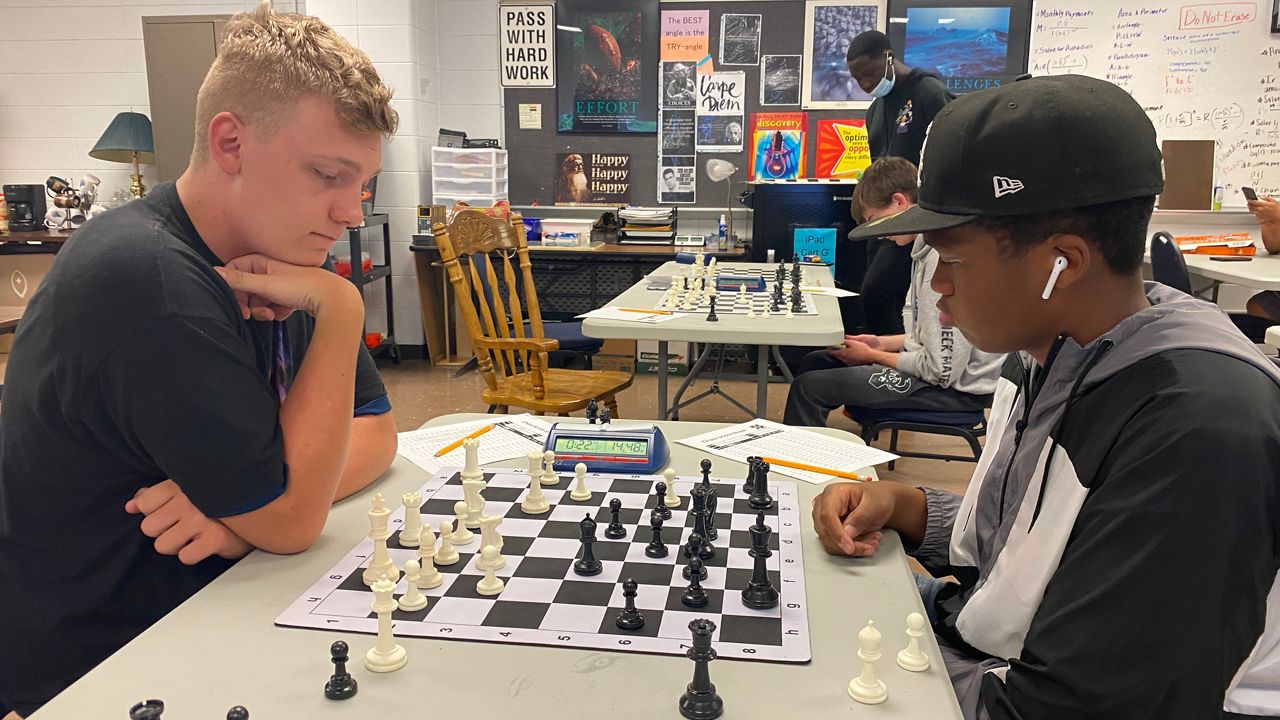 JCPS chess club students enjoy the game
LOUISVILLE, Ky. — A family that plays together stays together.
The Louisville Hennigs play chess at home, at work, and even in the pool, and they use the sport to help students in the classroom.
Ron Hennig is a math teacher, football coach, and chess coach at Valley High School.
His father taught him to play chess when he was around 10 years old.
He paid it forward by teaching his four sons, Trey, Nathan, Teddy and Samuel.
"He just looked at us and said, 'Come here guys. I'm going to teach you a man's game,'" Trey Hannig says.
For Ron, chess is more than a game. It's something his family will always have to share.
"When you're 18, most of the time basketball and football stop and chess doesn't stop," Ron explains.
With the help of his wife Leslie, who also coaches chess and teaches English, and a chess-related arts class at Conway Middle School, each school's small chess clubs grew into hundreds of players and in several regional and national champions and awards. .
Ron coaches several sports, but one of his team chess players, Valley High School junior Caleb Gray, is dedicated solely to chess.
Caleb has played chess most of his life. He knew how parts moved before he could ride a tricycle.
"I played my mom when I was three and beat her," Caleb says.
He started professional competition in 5th grade.
In April, Caleb was crowned the K-12 Under 1200 National High School Champion, but he says winning isn't everything.
"You win a lot and you don't get much out of it, but when you lose you tend to learn from it," Caleb says. "More enjoyable is when you have a really tough game because then you passed someone who was really competing with you," Caleb says.
That's not the only life lesson students learn from the game.
The couple say chess helps students improve logic and problem solving skills and take responsibility for their actions.
Their chess-playing students also improved their grades and self-confidence while reducing behavioral problems.
"My heart melts when I watch students click and learn something or see them do something and they succeed and feel good about it. That's what I live for," says Leslie.
The couple hopes to continue to grow their teams and not just in numbers.
"We want to create more diversity in chess to the extent that more women play chess, just more racial diversity, more diversity with different beliefs, and we just want to find common ground through the game of chess," says Leslie Hennig.
Their boys have been key in bringing new players together.
Each of their sons has won championships, but for Ron, the best prize is watching them teach other students.
"Because you don't know anything until you can actually teach it and I know they'll take different paths and lives they have different goals but just to see they have the passion in them teaching is very important to us being the teachers that we are," says Ron.
Even after graduating, teachers believe their students will make good progress on the board and in life.
Every summer, the Hennings hold summer camp in their backyard.