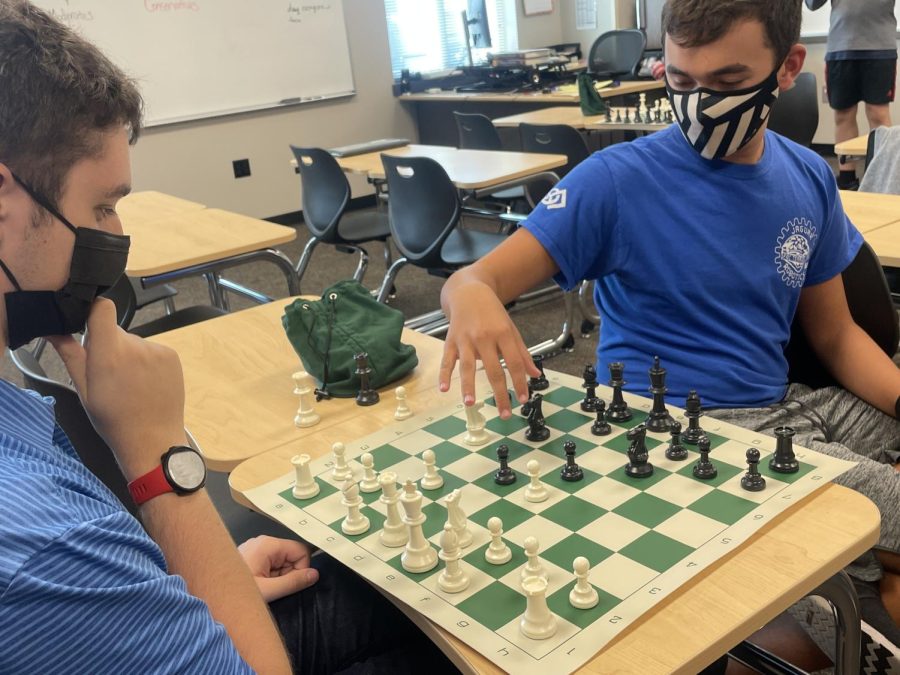 Junior starts chess club in hopes of spreading love of the game – Mill Valley News
Junior Isaac Steiner started the chess club to help others relax after the school day
Sophie Sena, JagWire reporter / photographer
October 13, 2021
Junior Isaac Steiner founded the chess club in hopes of creating a fun environment where people could play one of his favorite games.
Steiner has been playing chess from a young age when his father started teaching him how to play the game at the age of nine.
The club meets approximately 3:00 p.m. to 4:00 p.m. depending on the length of each match, accepts anyone willing to join, and stays in Mr. Walden's room.
Steiner said that chess can act as a "constant." Even if your life is going crazy, you have at least one constant within 64 boxes. "
Steiner's passion for the club is easily seen by those around him. In fact, most club members said Steiner was the person who recommended them to join the club. And for members like junior Gabe Martin, Steiner even taught some of them most of what they know about the game.
"Isaac was finally like, 'you should try it' so I played with him a few times and he kicked my ass over and over again," Martin said. "I played for a while. time and I got pretty decent, so when he got the idea to start a chess club, I was totally into it. "
Steiner and Martin both discovered that one of their favorite aspects of the game was the ability to learn their opponent's moves to try and anticipate what they might do next.
"There are so many cool moves in this game," Martin said. "Because everyone has a certain set of moves that they use. And playing with other people, and learning their movements and the way they play is interesting.
Steiner wants to continue the club in the future and hopes that the club will continue after graduation. He also hopes to be able to get more people to join the club in the future to help carry on the legacy of the chess club.
(Visited 86 times, 1 visits today)