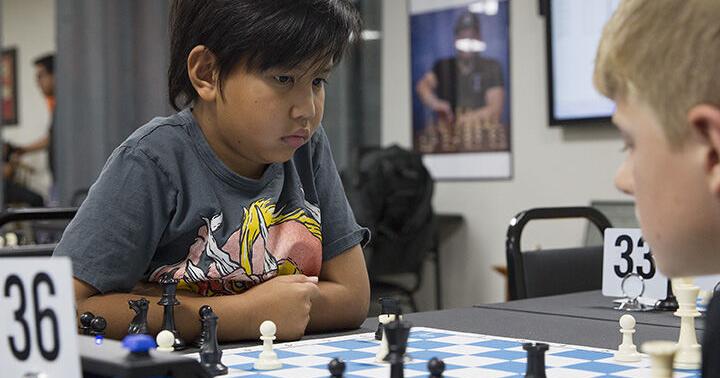 Master aims to train the next generation of New Braunfels chess players | Community alert
Players sit face to face in deep concentration, contemplating their next moves before the piece is selected and slides across the board to settle in the chosen space.
Black takes on White in a series of exchanges in quick succession until one word – "checkmate".
They are the school-age competitors of Complete Chess – New Braunfels' new chess club looking to develop the next generation of chess players.
Under the tutelage of National Chess Master Jesse James, young players learn some of the most respected opening moves in chess – the Sicilian Defence, Queen's Gambit and Caro-Kann.
"I want to see chess grow," James said. "There seems to be a very large population here that loves chess, which is why I wanted to (open a chess club in New Braunfels) – I want to continue to develop chess here."
James started playing at a young age and started playing tournaments at age 15. To practice, he consumed chess books, studying each game and familiarizing himself with the techniques to use against his opponents.
All of his hard work paid off when he finally earned the title of National Master.
"These days what I love about chess is really just teaching," James said. "I like to play, but I really like to see my children grow up. It's just amazing how much work they put into it, and it's like taking the baton to the next level.
For many, chess is just a board game, but it also teaches life lessons.
Through the game of chess, James students learn problem-solving and critical-thinking skills that can be used in life.
"The kids who play chess with us think three to five moves ahead, what's my move, your move – they go back and forth," James said. "You can see how very important that would be in life when you make decisions and (how that) will affect me."
Stephen Rodriguez took his son to James's club for training, and through the experience of the game, Rodriguez's son learned more than that.
"I looked for a way for my son to be in an environment where he competes with others, so he learns to win and lose," Rodriguez said.
His son, who is one of the youngest players at 6, played his first tournament on Saturday where he learned he was not supposed to talk during a game.
"The good news is that the managers, the staff, they tell him, they teach him, you have to be quiet during tournaments," Rodriguez said.
Teaching him to recognize appropriate times and places to talk is a transferable skill that can be applied in a school setting, Rodriguez said.
Some of James' students spend time in their local Comal ISD school's chess clubs and participate in district tournaments, such as Asher Lippe, who steadily improves his skill level.
"I don't even bother to try to play him anymore – there's absolutely no point if we play at home because he'll take his queen away, so he doesn't even have that piece available," said said Jon Lippe, her father. .
Beyond Lippe senior's skill level, he sought out the club to help his son grow stronger by taking private lessons.
"I'm doing even better with Coach Jesse," Asher Lippe said. "He's one of the best teachers I've ever had…(learned) how to improve and do better in games."
When students come looking to improve their skills, he asks them to do drills, study the game, and play with each other.
The club, located on the second floor of suite 1203 at 921 S Interstate 35, hosts camps for interested players, offers lessons, and hosts free beginner chess tournaments once a month.