Monthly cash prize tournaments launched at ChessBase India Chess Club in Mumbai
The ChessBase India Chess Club at Phoenix Marketcity started on March 19, 2022. Since then we have had 28 Saturdays and each of the days the Chess Club has been open for chess lovers across the city to come and enjoy a game of chess! The club is totally free and open to everyone. The idea was to keep the place fun and vibrant. It all started with a simultaneous exhibition of Amruta Mokal on March 10, 2022 and since then not only have we had the chess clubs every Saturday, but we have also had the simulation with Samay Raina and the Death Match between Anish Giri and Vidit Gujrathi organized at the same venue.
The simulation that kicked off the Phoenix Marketcity!
The first session with a large crowd took place on March 19, 2022
We at ChessBase India are very proud of what we have achieved with the Chess Club created in partnership with Phoenix Marketcity. Here are some photos that will help you better understand the place:
The Chess Club is held in the Atrium 5 area of ​​the Phoenix Marketcity Mall
Meher, 4, is a regular visitor to the ChessBase India Club
Match against Meher! Who knows, one day she will become a world class player!
A little impromptu session to teach these young people the rules of chess!
People from all over the world have visited the Club!
Clash of generations with a nice little crowd watching!
Intensity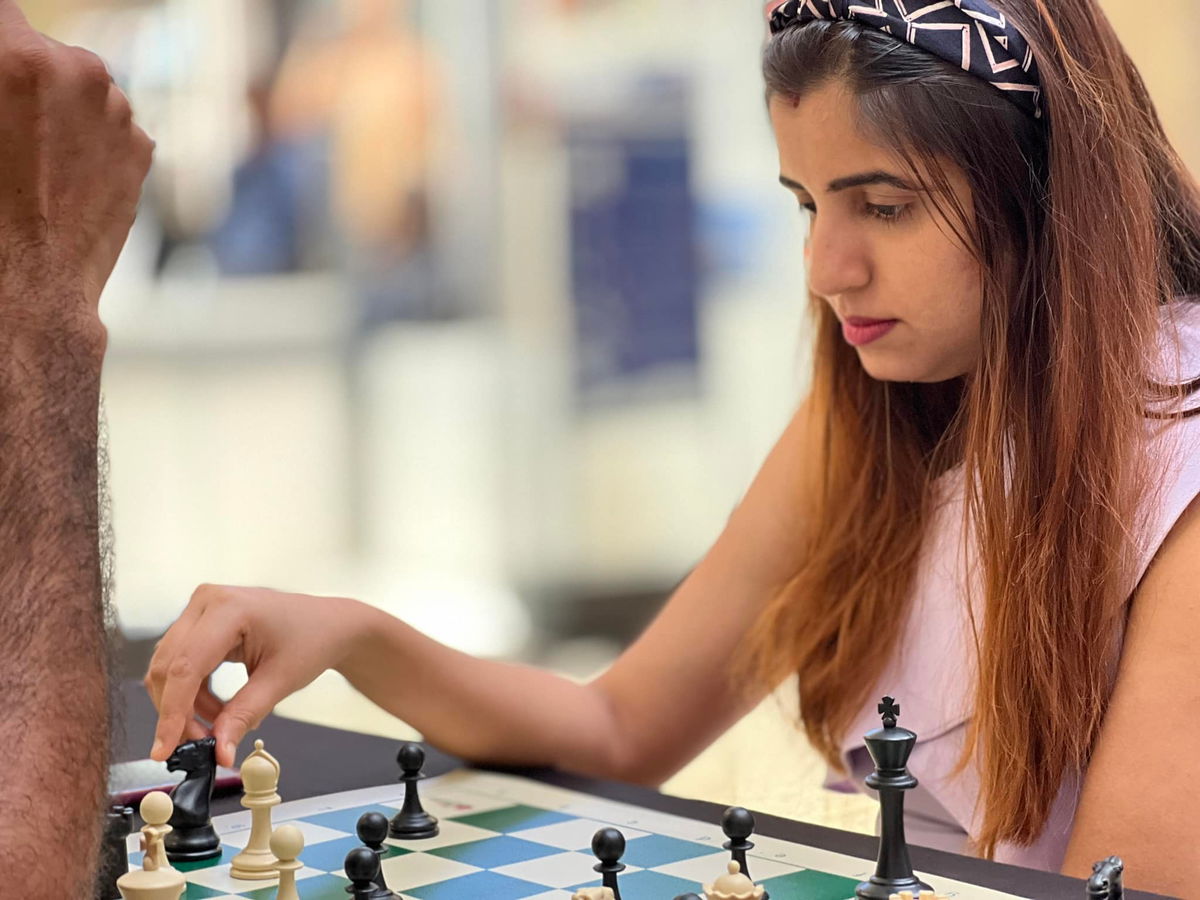 Completely captivated!
The look of the chess player!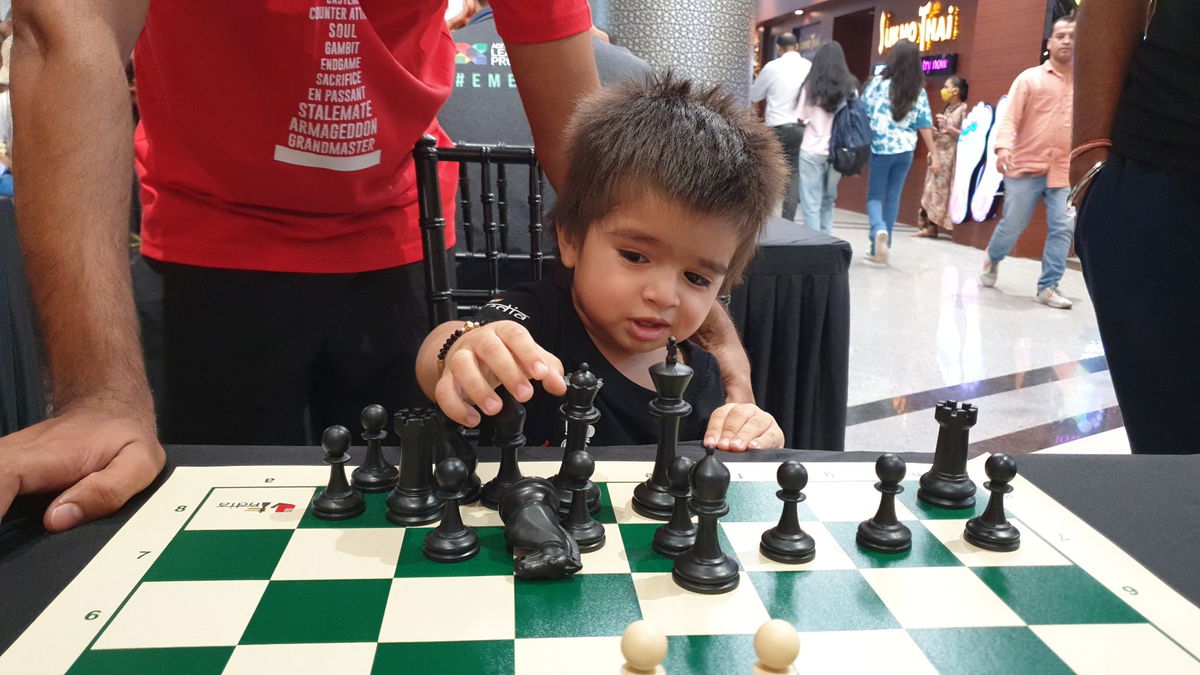 The youngest player in the Chess Club! Do you recognize who he is?
He is the son of chess couple Angela Franco and Niklesh Jain – his name is Shreshth Angel!
Hoping for a stalemate!
ChessBase India Sales and Marketing Manager Supriya Bhat teaches the young girl some tricks she has learned over the years!
Ketan Boricha (Elo:2092), a well-known trainer from Mumbai visited the club!
How did the king get to the center of the board? !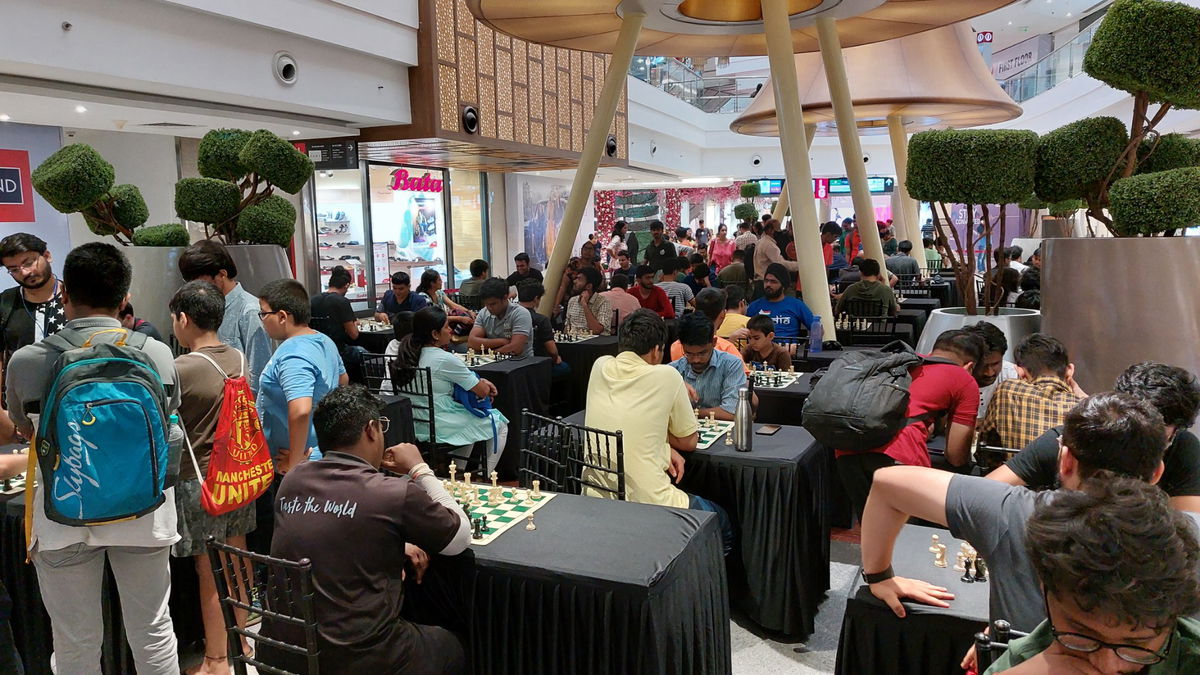 The chess club is usually packed!
There is also a balcony with a view of the chess club!
It's always nice to see young people come and play against each other!
A great event that happened at the chess club was the simulation with Samay!
Samay played for over 6 hours!
Many people have joined via the livestream!
Did you know that well-known Bollywood singer Nandini Srikar is a huge chess fan? Here she plays against Prachi, the mother of Amruta Mokal.
Games have not always been easy at Chess Club
It's always a nice feeling when young people who visit the club are able to achieve something special. Here we have Nimay Agrawal who won the national under-10 title and came to the club with his beautiful trophy! He received thunderous applause!
Another extremely intense match! You can check out the video below:
13 year old boy makes IM Sagar Shah sweat
The club has given a chance to many chess fans who regularly watch ChessBase India content to come and interact with us!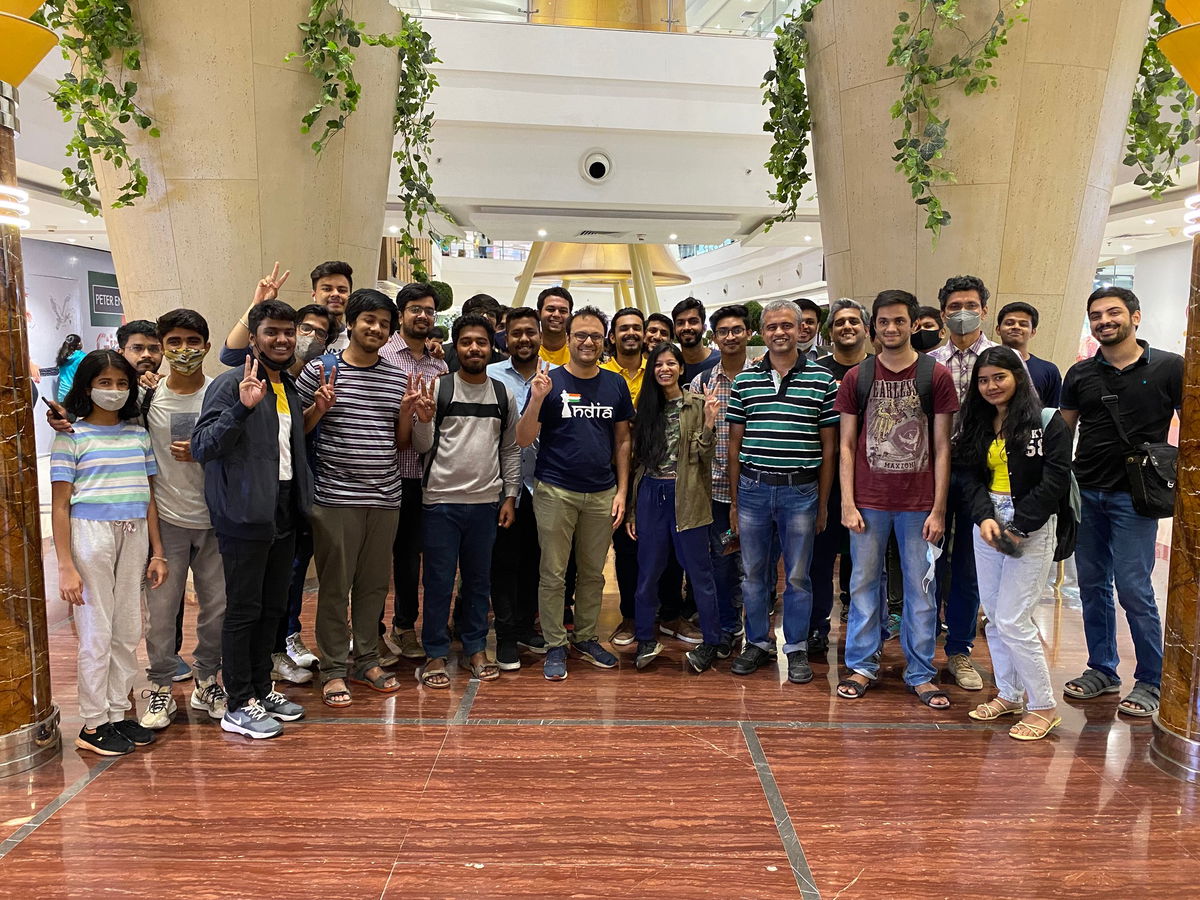 We have built a small community of chess enthusiasts who meet every Saturday!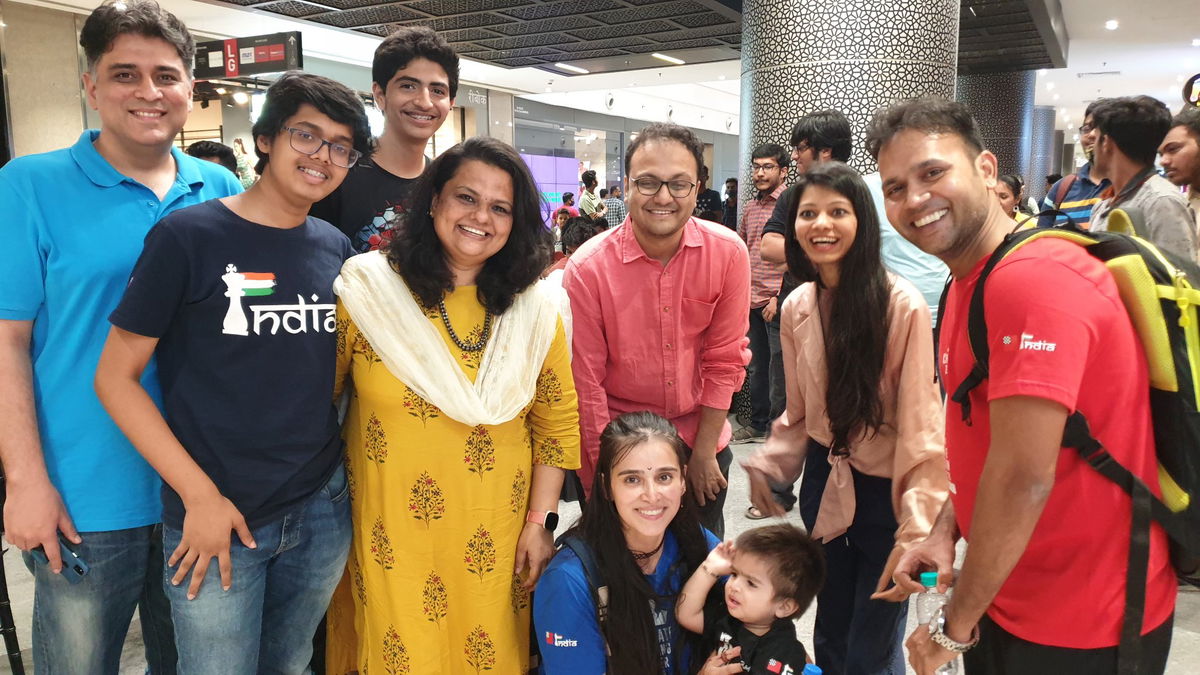 A small meeting of the ChessBase India team at the Chess Club!
Many thanks to my first coach Mahesh Ved, who instilled in me a love of chess when I was very young! He regularly visits the chess club!
And after?
The support of Phoenix Marketcity management has been immense in this whole chess club management endeavor. They have been consistent and also want to spread chess culture across the country. Phoenix Mills Assistant Marketing Manager Gaurav Mistry, also the man who contacted us to start something chess-related in Phoenix, told me, "Sagar, we should be doing 25 sessions solidly and consistently every Saturday. Once we have proven that we can do this regularly, then we can think about new initiatives." And so, at the end of the 25th session, Gaurav sent me a message saying that we should think about building this That's when we decided to launch the 4th Saturday tournaments!
A great supporter of chess, Gaurav Mistry ensured that Phoenix Marketcity became the home of chess in the city!
How did we plan to do the tournaments at the Chess Club? We wanted to keep a cash prize tournament (an amount of Rs.10,000) every month. At the same time, we wanted to make sure that there were no registration fees for players. But then how would we decide who could play and who could not? Well, instead of money, we've decided that people's participation will decide who can participate in the 4th Saturday tournaments. We would take attendance from the first three Saturdays of the month and everyone who attended the first three Saturdays would get direct entry to the 4th Saturday event. So let's take the example of October. From October 1, we will have attendance on the first three Saturdays – 1, 8 and 15. On the 22nd the tournament will take place and everyone who attended the first three Saturdays will be able to play. We will make an exception for titled players if they wish to participate in our tournaments.
The chess club has 50 chessboards, so around 100 players will be able to participate in the tournament
The tournaments will be professionally organized and there will be chess clocks on every board. We expect a time control of 5 minutes + 2 seconds increment and a total of 7 rounds. There will be Grand Prix points for people who finish in the top 10. These points will be added throughout the year and we will find out who the ChessBase India Chess Club Mumbai City champion is at the end of the year!
We hope this model works well and that we can launch more chess clubs across the country in partnership with Phoenix. Above are the cities where Phoenix already has a mall.
ChessBase India Chess Club Calendar
October 1 – Attendance
October 8 – Presence
October 15 – Presence
October 22 – Tournament
October 29 – 5th Saturday (no attendance)
November 5 – Presence
November 12 – Presence
November 19 – Presence
November 26 – Tournament
Every 4th Saturday of the month there will be a ChessBase India Chess Club tournament!
To note: One person who attends every Chess Club day for the coming year (and this also includes every 5th Saturday of the month) will receive a special award from ChessBase India!
A short video explaining the launch of tournaments at the Chess Club
Sponsorship: Currently, we don't have a sponsor to run the cash prize tournaments. In case, a brand would like to collaborate with us on this initiative. They can write to us at [email protected] We will ensure that they get value for their investment in this business.
Connections:
The first session of the ChessBase India Chess Club
The entire ChessBase India Chess Club video playlist on YouTube (over 50 videos!)
---