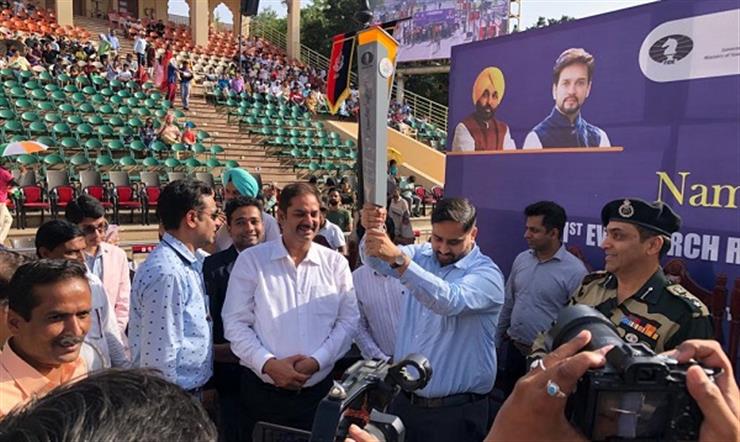 The torch of the 44th Chess Olympiad involving chess players from 190 countries has reached the border of Attari in India
AMRITSAR: The first Chess Olympiad Torch Relay of the 44th Chess Olympiad, which is being held for the first time in India with the participation of chess players from 190 countries, reached the border of Attari today today.
The chess torch in the hands of Deep Sen Gupta, chess grandmaster in an open jeep, was warmed by the Punjab government, district administration, NIS, players, students, Nehru volunteers Youth Center and the Punjab State Chess Association. Hosted and students from Khalsa College gave a good performance of Bhangra.
On the occasion, Deputy Commissioner Harpreet Singh Sudan welcomed the torch and thanked the guests and said that the government of Punjab under the leadership of the Chief Minister of Punjab, Mr. Bhagwant Mann should promote sports, athletes and strengthen the sports infrastructure in the state. Commits to He said he hopes Punjab prioritizes sports right from the school level.
He said Chess Torch was a fresh start for the game of chess that encouraged more young people to get involved in the sport.
Mr Sudan said it was a matter of pride for the Amritsar district that the Chess Olympiad torch had reached here. He said that this torch inspired our youth towards sports and especially chess. The Deputy Commissioner has returned the torch to Chess Grandmaster Deep Sen Gupta and he will leave for Kurukshetra for the next step.
Meanwhile, chess grandmaster Deep Sen Gupta at Attari Border encouraged children to play chess by playing chess on a board with younger players. The Chess Olympiad Torch was then handed over to Grandmaster Deep Sen Gupta and sent to the next stage.
Mr. Jasbir Singh, Additional Deputy Commissioner, Mr. Harpreet Singh, SDM, Mr. Jasbir Singh, BSF Commander, Mr. Manish Thapar, President of Punjab Chess Association, Mr. Danois, General Secretary of the Amritsar Chess Association and other officials were present on the occasion.