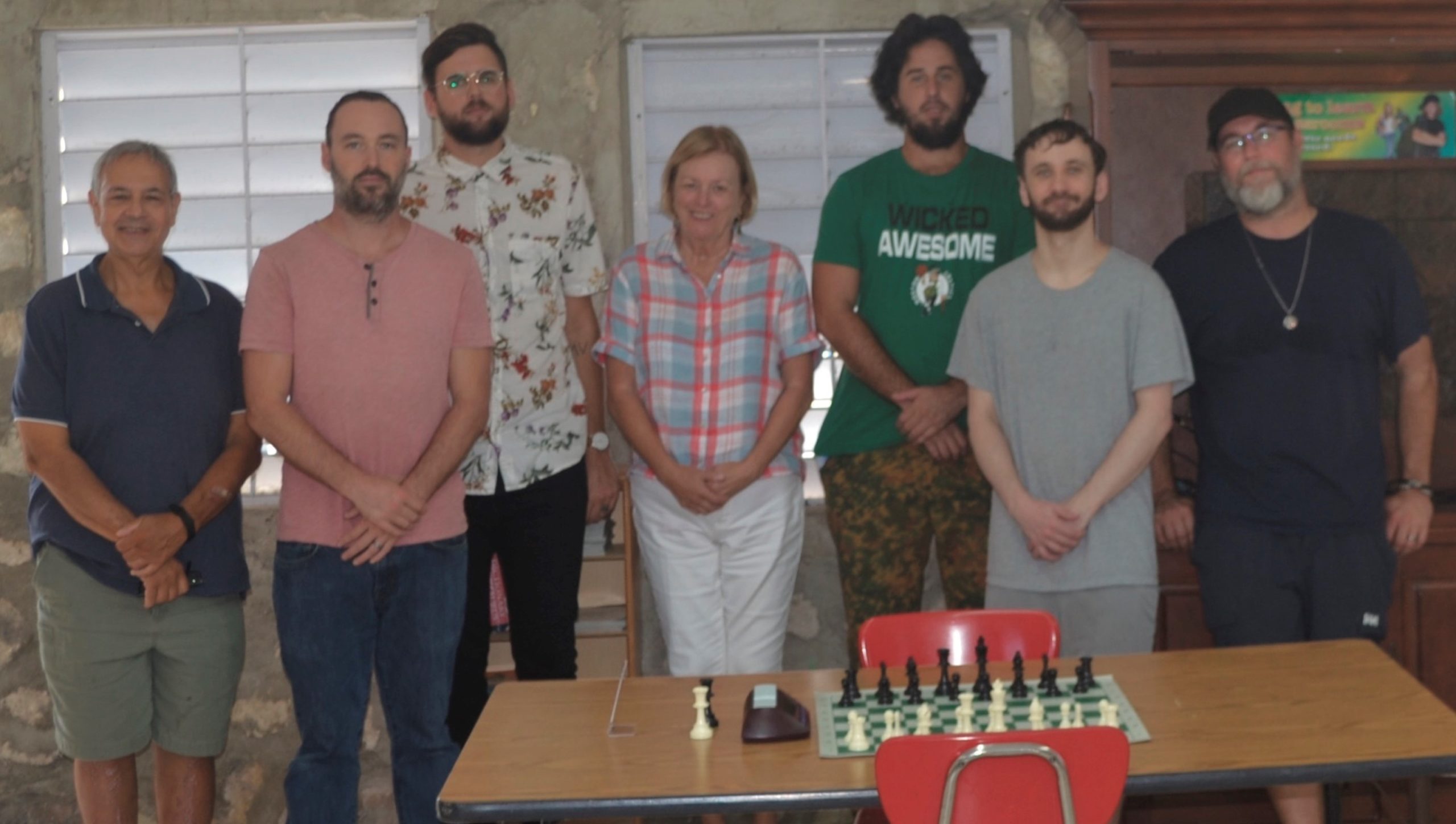 USVI St. Croix Chess Federation Chess Club Holds Winter Festival Tournaments
The USVI St. Croix Chess Federation Chess Club held its 2022 FIDE (World Chess Federation) Winter Festival Chess Tournaments at Education Connections VI from February 11-13, at La Grande Princesse, Holy Cross. USVI Chess Federation President Margaret Murphy, FIDE International Organizer and Arbiter, served as the FIDE official for these tournaments with the assistance of the USVI Chess Federation Secretary, James Hoffman, ASP (Athletic Support Person).
It was a three-day, 10-round chess event offering 20 hours of chess competition. Tournament players included former USVI Chess Olympiad players Michael Smith and Anthony Mongiello as well as Colin Peter Heim, Justin Hair, Andrew Skiba and Sasha Sircus. Smith won the first five-round tournament with 4.5 out of 5 points; the second tournament was won by Hair with 4.5 out of 5 points. The Winter Chess Festival gave the opportunity to three unrated players, Hair, Skiba and Sircus, to obtain a FIDE chess rating.
This tournament was made possible thanks to the generous support of the local community of Sainte-Croix. The USVI Chess Federation St. Croix Chess Club thanks Mr. and Mrs. Allen of Education Connections VI for providing the Titan Playing Venue and Gas Station, Golden Rock Market and 40 Eats and Drinks for their donations. Jim Hoffman donated his homemade pastries and snacks for all participants during the three days of the tournament.
FIDE Instructor Margaret Murphy and Anthony Mongiello will resume Saturday Chess lessons at Education Connections VI on February 19 between 10 a.m. and 11:30 a.m., offering free instruction every Saturday.
For more information, contact the USVI Chess Federation at [email protected] or visit its Facebook page.
The U.S. Virgin Islands Chess Federation is planning more chess events in 2022 to grow and improve its chess community in the territory.