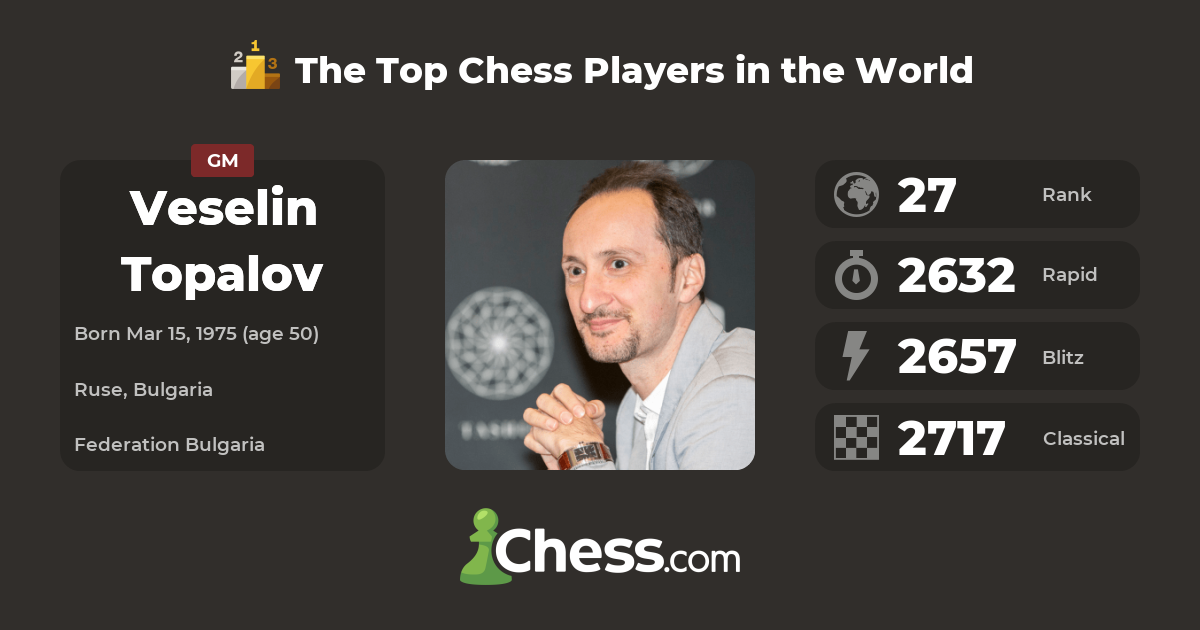 Veselin Topalov | best chess players
GM Veselin Topalov is a Bulgarian super-grandmaster and was FIDE world champion in 2005. He was world number one from April 2006 to January 2007 and again from October 2008 to January 2010. According to 2700chess.com, it reached its maximum rating of 2826 on August 24, 2015 – the 5th highest rating ever.
Topalov played against GM Vladimir Kramnik for the world championship in 2006 and also played against GM Viswanathan Anand for the world championship in 2010. He was consistently among the greatest players in the world for over two decades and has participated in nine Olympiads.
---
Style
Topalov's style is universal and dynamic. He is more aggressive than most world champions but just as complete. Topalov's propensity for forceful counterattacks and crystal clear calculations from messy positions can be seen in his best games. His almost permanent use of the Sicilian defense as black and his many victories against it with the white pieces are remarkable.
In the next game, Topalov leads an instructive kingside attack against GM Lazaro Bruzon Batista. After White captured the c5-pawn at move 29, Topalov immediately punished this pawn capture with a decisive attack starting with 29…Nxf4. Note the position of the white knight on a3 and the queen on c5 who are unable to help defend the king.
Early career in chess
Topalov learned to play chess at the age of eight and quickly became a chess prodigy. In 1989, he won the Under-14 World Championship and became an international master. In 1992, he obtained the title of grandmaster at the age of 16.
Two years later he would play his first Olympiad and defeat the GM world champion Garry Kasparov aboard one. In this game, Topalov and Kasparov have a classic Sicilian slugfest. After an extremely tactical midgame, Kasparov errs on move 23. On move 25, Topalov makes double turns in the seventh rank, and the game is quickly decided.
From grandmaster to world-class player
From 1994 to 2004, Topalov became one of the best players in the world. In 1996, he won several tournaments, including the first place shared with Kasparov at the Max Euwe's memorial in front of managing directors Nigel Short, Anand, Kramnik, Joel Lautier, Yasser Seirawan, Boris Gelfand, Jereon Piket and Jan Timman. (Topalov beat Kasparov in their individual match.) Topalov scored 5/10 in the 1996 Las Palmas tournament, one of the strongest tournaments ever with GMs Anatoly Karpov, Kasparov, Kramnik and Anand all participating.
Topalov's match against Kasparov in the 1999 Wijk aan Zee tournament is historic. This game is considered one of the best games ever played and was voted the number one chess game of all time by the team at Chess.com. It was also in 1999 that Topalov started playing in FIDE World Championship knockout tournaments.
In the 1999 FIDE World Championship knockout tournament, Topalov entered as the ninth seed and was eliminated by the top seed, Kramnik, in the fourth round. In the 2000 FIDE World Championship knockout tournament, he entered as the seventh seed and advanced to the quarter-finals (the top eight) before being eliminated by the third seed, general manager Michael Adams. At the 2002 FIDE World Championship, Topalov entered as the eighth seed but lost in the fourth round to ninth seed GM Alexei Shirov.
Also in 2002, Topalov lost in the Candidates Final to GM Peter Leko for the right to face Classic World Champion Kramnik. In the 2004 FIDE World Championship knockout tournament, Topalov entered as the number one seed but lost in the semi-finals (top four) to eventual winner GM Rustam Kasimdzhanov.
2005 and the world championship
2005 was a fantastic year for Topalov. He started with a third place in Wijk aan Zee at the Corus tournament, then shared first place in the 2005 Linares tournament with Kasparov (ahead of GMs Anand, Leko, Adams, Kasimdzhanov and Francisco Vallejo Pons). In the last round of the Linares tournament, Topalov defeated Kasparov. After the tournament, Kasparov announced his official retirement from chess.
Here is a wonderful example of a game from 2005, where Topalov beat Kramnik quickly. Playing the white side of the Sicilian Najdorf, Kramnik catches a dangerous pawn on move 12. Topalov's counterattack is quick and decisive. On move 15, Topalov's knights dominate the center of the board and Kramnik's queen is stuck in an awkward position. After 19…d5 Kramnik loses a piece of strength and resigns at move 20! When was the last time you saw Kramnik lose in 20 moves with the white pieces?
Later in 2005, Topalov entered the 2005 FIDE World Chess Championship tournament as the highest rated participant (alongside Anand, who had an identical rating of 2788). The format of the tournament had changed from the knockout system that FIDE had used from 1998 to 2004 and was now basically identical to the current format of the Candidates Tournament: eight players, double round robin.
Topalov had a wonderful tournament and scored a remarkable 10/14, a point and a half ahead of second and third place Anand and GM Peter Svidler. Topalov's performance rating at the 2005 tournament was 2890! He had achieved his lifelong goal of becoming world chess champion.
2006 World Championship match against Kramnik
Topalov's reign as FIDE World Champion has started well. He shared first place with Anand in Wijk aan Zee at the 2006 Corus tournament, ahead of GM Adams, Vassily Ivanchuk, Gelfand, Sergey Karjakin, Sergei Tiviakov, Leko, Levon Aronian, Shakhriyar Mamedyarov, Gata Kamsky and several other powerful grandmasters.
Here is a match from this tournament where we see Topalov at his best against Aronian. After a standard 4…Ba6 Queen's Indian Defense opening, Topalov sacrifices the exchange on move 17. The position becomes materially unbalanced but messy. On move 36, Topalov sacrifices a second exchange, and the resulting position on move 38 is memorable. Topalov's bishop pair and passed pawns connected on d6 and c7 are unstoppable.
In April 2006, Topalov was the highest rated player in the world, but his match with Kramnik was looming. Topalov's FIDE World Championship title was well deserved, legitimate and respected; however, Kramnik (the Classical World Champion) and FIDE demanded a match to reunite the World Championship titles. There had been no unified or undisputed champion since Kasparov parted ways with FIDE in 1993, and the winner of the Kramnik-Topalov world championship match would be crowned undisputed champion.
The Kramnik-Topalov World Championship match was highly anticipated. Topalov was world number one while Kramnik was number four. Kramnik was undefeated in match play as a recurve world champion since dethroning Kasparov in 1999, and he showed why after winning the first two matches. Topalov's team accused Kramnik of receiving computer assistance, and after two draws in games three and four, Kramnik lost game five in protest.
The match eventually went as normal, and Topalov won games eight and nine to take a lead towards the end of the game. Kramnik came back and won game 10 to level the score and after two more draws the game ended in a tiebreaker. Kramnik won the decisive part of the match 2.5-1.5 and was crowned undisputed world champion. Although he lost the match, Topalov remained the highest rated player in the world until January 2007.
Topalov started 2007 by sharing first place in the 2007 Corus tournament with Aronian and GM Teimour Radjabov, half a point ahead of Kramnik (also ahead of Anand, Svidler, Karjakin, Shirov, Magnus Carlsen and other powerful grandmasters).
Here is a great victory for Topalov in this tournament against a 16-year-old Carlsen. Topalov sacrifices an early trade, but Carlsen decides to return a second play to keep his initiative. After Carlsen's counterplay stops, it is clear that Topalov's two pieces are significantly stronger than Carlsen's rook. Topalov's technical prowess is on full display as his pieces find perfect squares until Carlsen quits on move 26.
In 2008, Topalov won several solid tournaments, including the 2008 Bilbao tournament, where he finished ahead of Aronian, Carlsen, Ivanchuk, Radjabov and Anand. By winning this tournament, he reclaimed his spot as the highest rated player in the world – a spot he would hold until January 2010. In 2009, Topalov faced Kamsky in a match to see who would challenge world champion Anand in 2010. Topalov won the match. 4.5 to 2.5 and began preparations for his World Championship match against Anand.
2010 World Championship match against Anand
The 2010 Anand-Topalov World Championship match was another very tight and highly anticipated competition. Topalov was rated slightly higher, but Anand had beaten Kramnik to become world champion (a feat Topalov was unable to do a few years earlier). The format of the match was the same as the 2006 World Championship match with Kramnik: 12 classic matches with a tie-break if necessary.
Topalov started the match with a convincing victory. After a main opening by Grunfeld, Topalov sacrifices a pawn for activity. This activity turned into a vicious attack from the kingside after Topalov's knight was sacrificed at move 24. Only four moves later, Topalov's rooks both reach the seventh rank (similar to Topalov's victory against Kasparov in 1994) and the game ended quickly.
Anand fought back with his own win in game two and another win in game four. Topalov leveled the game with a win in game eight, and after three successive draws the game was still tied with one last round remaining. Anand won the twelfth game and the match to retain his title.
Life after World Championship matches
Topalov has continued to play chess at a high level over the past decade. In the 2012 Candidates cycle, he lost to Kamsky in the quarter-finals. He won the 2012 London FIDE Grand Prix, as well as the 2013 Renova Grand Prix. Victory at the Renova tournament pushed him back into the top five players in the world. Topalov won the 2012-13 Grand Prix title, earning him a spot in the 2014 Candidates Tournament.
Despite his poor performance at the 2014 Candidates Tournament, Topalov won gold on first board at the 41st Chess Olympiad (with a performance rating of 2872) and finished third in the strong 2014 Sinquefield Cup (behind GM Fabiano Caruana and Carlsen). Topalov qualified for the 2016 Candidates Tournament due to his seeding but again had a bad tournament (he finished in last place). He continues to play strong tournaments and finished half a point behind the winners of the 2020 Gibraltar Masters.
Topalov remains in the top 25 of the rankings, even after so many years as a world-class player, challenger and world champion. His games are still studied in books, articles and videos as the world waits to see what's next for the former world champion.