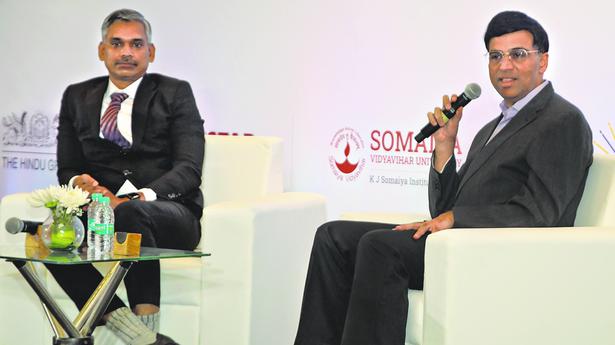 Viswanathan Anand calls for more female chess players
Chess has found a way to beat COVID-19 with online games, says five-time world champion Anand

Chess has found a way to beat COVID-19 with online games, says five-time world champion Anand

Five-time world champion Viswanathan Anand hoped on Tuesday that more female chess players would break through the country's ranks.
Anand was in conversation with RB Ramesh at Sportstar's first ever South Sports Conclave here. "It's very easy to feel very optimistic about young Indians on the boys' side but not on the girls' side," Anand said during a panel discussion titled "Chess and Chennai."
"Women like Dronavalli Harika, Koneru Humpy, Bhakti Kulkarni and Tanya Sachdeva are still doing well even though they have been around for a while.
"The new ones aren't really drilled. I hope this Olympiad will trigger something.
"Overall, we need more women in the game. It's a global problem. The specific thing about India is that Humpy and Harika are still very dominant. I wish them well, but it would be nice if they had more competition from young people.
Olympiad held online

In 2020, when COVID-19 brought sporting activities to a halt, chess found a way to defeat the dreaded virus. Online games featuring players of all skill levels, from beginners to GMs, were played in all time zones. At the end of August 2020, India was crowned co-winners, along with Russia, of the Online Chess Olympiad. It was the first time the prestigious event was held virtually.
Anand weighed in on how easy it is to play chess online. "As long as you're using it for learning purposes where you're training specific skills, it's very healthy. But when you get addicted, you want to play one more game because you want to scam all at once.
"You don't try to improve anymore, just score and that's unhealthy. You have to do it more consciously."
The 44th Chess Olympiad will be held in Chennai from July 28 to August 10. The Olympiad, which was moved out of Russia after it invaded Ukraine, was recently awarded to Chennai, making it the sport's second major global event to be held in India after the 2013 World Championship between Anand and Magnus Carlsen.