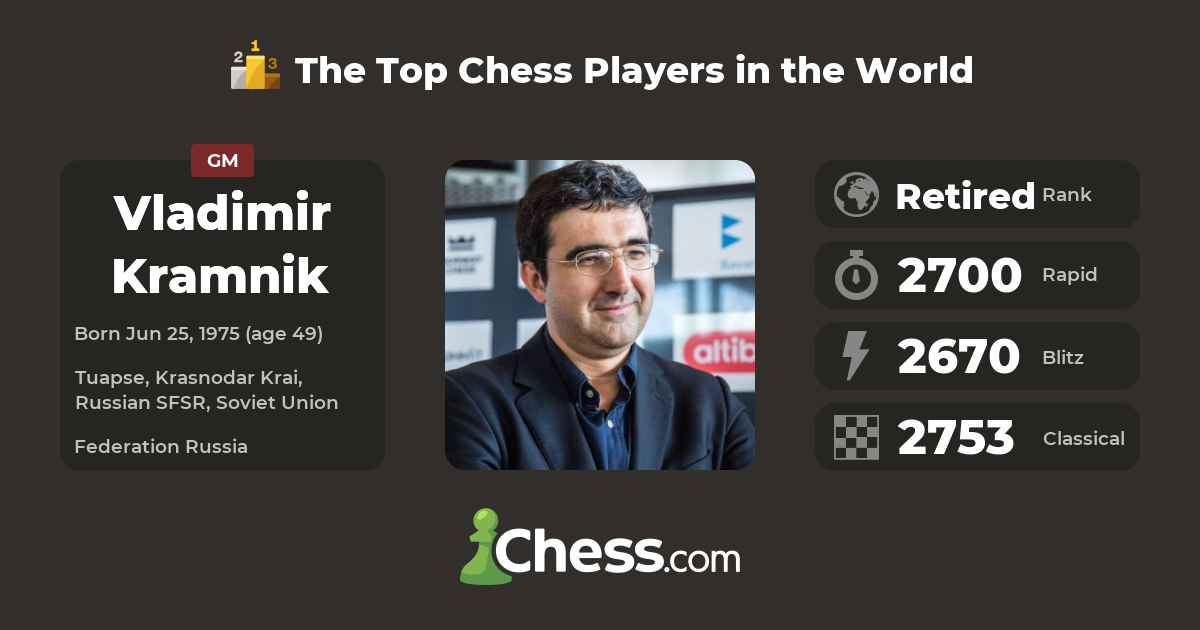 Vladimir Kramnik | best chess players
Vladimir Kramnik is the only world chess champion born in the 1970s, holding the classic title from 2000-06 and the undisputed title from 2006-07. He spent more than two decades as one of the top chess players before retiring in January 2019 at the age of 43.
Youth and career
Vladimir Kramnik was born in Tuapse, Russia (then Soviet Union) in 1975. A student of the Mikhail Botvinnik school, he won the 1991 youth championship.
Before leaving his teenage years, Kramnik was already a top flight player. In 1993, at the age of 18, he participated in the Linares tournament and finished fifth out of 14 in a field that included Garry Kasparov, Anatoly Karpovand Viswanathan Anand. At the next Linares tournament, Kramnik defeated Kasparov for the first time but not the last.
Kramnik's meteoric rise led him to tie for first place on the FIDE rating list in January 1996. However, throughout the 1990s he never played in a World Championship match. It lost Candidates Tournaments in the FIDE and Standard Chess cycles in 1994, and fell in the quarterfinals of the FIDE Championship Knockout Tournament in 1999.
In the late 1990s, Kramnik, Anand and Alexei Shirov were considered the top three potential challengers for Kasparov's championship. After losing to Kasparov in 1995, Anand returned to the FIDE championship system, while Kramnik and Shirov played one match in 1998 for the right to challenge Kasparov. Kramnik lost, but negotiations between Kasparov and Shirov ultimately failed.
In the end, Kramnik didn't need to win a tournament or a match to challenge for the World Championship, because without doing so, he still managed to negotiate a match with Kasparov. However, Kramnik was ranked ahead of Shirov at the start of the 2000 game.
Classical World Champion
Kasparov entered the game as the favorite, even though Kramnik was in great shape and had more than stood up to Kasparov historically. But by this point, Kasparov had regained the top spot in the world by a wide margin. Nevertheless, Kramnik wouldn't just justify his presence in the game; he won it.
Kramnik struck very quickly with a win in Game 2. Against Kasparov's Grunfeld defense, Kramnik took a new approach on moves 10 and 11, reached a favorable endgame on move 26 and took the full point on move 40.
Kramnik stayed one point until game 10. Kasparov left the Grunfeld after game 2 and in this tenth contest played the Nimzo-Indian instead. The result was a 25-shot rout in favor of Kramnik, giving him a two-point lead with just six games left on the schedule.
Kasparov never broke through. After draws in the next five games, the game was over. Kramnik was the first challenger since Jose Capablanca in 1921 to avoid losing a match in a league game.
As Black, Kramnik took over Berlin's defense against Ruy Lopez, thanks to which he got draws in games 1, 3, 9, 11 and 13. Kasparov played 1. c4 in games 5 and 7 and 1. d4 in game 15, also to no avail.
Kramnik, who in 2001 became the second player to reach a 2800 rating, nearly lost his title in a 2004 game against the Hungarians. Pierre Leco. Instead, Kramnik joined emmanuel lasker (1910), Botvinnik (1951) and Kasparov (1987) as players to remain world champion via a draw. (He would also be the last, as every league game since has gone to tiebreakers if tied.) And like Lasker and Kasparov, Kramnik needed a victory in the very last game to succeed.
After winning the first game with Black, Kramnik dropped games 5 and 8 and had to make up a point in the last six games. Five games later, he still hadn't.
In the 14th and final game, however, Kramnik played the advanced variation against Leko's Caro-Kann after trying the main lines in game 12. By move 33, Kramnik had established ideal positions for his final two pieces, a knight on d6 and a turn in the seventh rank. He then walked his king on f6 to create a checkmate net and retain the championship.
Undisputed world champion
After Leko, Kramnik's next title defense came against Veselin Topalov in 2006, but this one was different. Topalov, the world number one by ranking, was the FIDE champion, and their match would reunite the title of world champion after 13 years in dispute.
It was to be a dramatic and controversial match with the nature of the controversy rather odd. First, Kramnik got off to a fast start, in which he won the first two games before drawing the next two.
Before Game 5, however, Topalov's camp accused Kramnik of taking a "suspicious" number of bathroom breaks. As a result, it was decided that the players would use a shared bathroom instead of their own private facilities, contrary to the contract. Kramnik refused to play game 5, when he would have had the advantage of the white pieces. The match continued after negotiations and a return to private facilities as per the contract, but Kramnik was forfeited.
After two draws, Topalov won two games to take the lead, with the forfeit now making the difference. However, Kramnik recovered quickly by winning Game 10 against the Catalan. Two draws later, the game went to quick ties. After Kramnik drew in Game 13 with Black, White won all remaining games. Kramnik's victory in Game 16 proved decisive and made the controversy of Game 5, essentially, an unfortunate oddity.
Kramnik did not hold the reunified world title for long and would lose the title before losing a match. Instead, 2007 was already slated to be an eight-man, double round-robin tournament for the World Championship, and Kramnik's victory in 2006 earned him Topalov's bid for the 2007 tournament.
Kramnik played well with second-round victory Alexander Morozovich and six draws in the first half of the tournament. However, a ninth-round loss to eventual sixth-finisher Morozovich tied Kramnik for third place, 1½ points behind tournament leader Anand. Although Kramnik defeated his old rival Leko in the 12th round and Levon Aronian on the 14th and final lap, Anand took a comprehensive victory.
Luckily for Kramnik, he entered the tournament knowing that if he lost, he would still get a match with the winner.
Career after the championship
Unfortunately for Kramnik, he didn't beat Anand in 2008 either. He lost three of the first six games and the 12-game format never gave him a real chance to recover. Kramnik picked up a win in the tenth game, but a draw in the ensuing contest ended the match.
Despite his results at the World Championships in 2007 and 2008, Kramnik briefly returned to the top position on the FIDE rating list in January 2008. He would remain a constant presence in the world top ten for the next decade, as he had been for the previous decade. and more.
Kramnik appeared in three Candidates Tournaments in the last ten years of his career, but never played in a championship game again. In 2012 he lost in a quick tiebreaker against Alexander Grischuk in the semi-finals of an eight-man knockout format. In the 2014 double round robin, he finished in a three-way tie for third 1½ points behind Anand (who Magnus Carlsen had dethroned champion the previous year).
After Kramnik in 2016 looked on the outside, he was named the wild card for the 2018 contestants as world number three. Although he faded in the second half to finish fifth, he brought out the magic again in an acclaimed third-round win over Aronian.
The 2018 Candidates turned out to be one of Kramnik's last tournaments. He publicly announced his chess retreat after the Tata Steel 2019 tournament in January.
Legacy
Every player is judged by more than their record against a single opponent, but Kramnik's performance against arguably Kasparov's greatest player was remarkable. He not only dethroned Kasparov as world champion in 2000, but also held a positive record against Kasparov in standard matches. Kramnik was also the only player besides Kasparov to rank world number one in the 20 years from 1985 to Kasparov's retirement. Kasparov himself once compared Kramnik's style to Karpov's.
More broadly, Kramnik was a comfortable player in any opening and therefore in any position. No opening is more closely associated with Kramnik than the Berlin defense against Ruy Lopez, thanks to its use to neutralize Kasparov's use of white pieces in 2000, but Kramnik was also able to respond at 1. e4 with the Sicilian or Petroff . As a white, Kramnik became known for his ability to win against the king's Indian defense.
Every world chess champion leaves a great legacy, but as a consistent best player for 25 years, Kramnik's legacy goes beyond just being on the champion list.